This afternoon we visited Elizabeth to have a look at her work on a camellia shrub on which she had sought Jackie's advice yesterday, and to invite her to dinner this evening. She had done a good job and was pleased to accept the invitation.
On this drizzle-dismal day we drove through increasingly descending precipitation for a short while.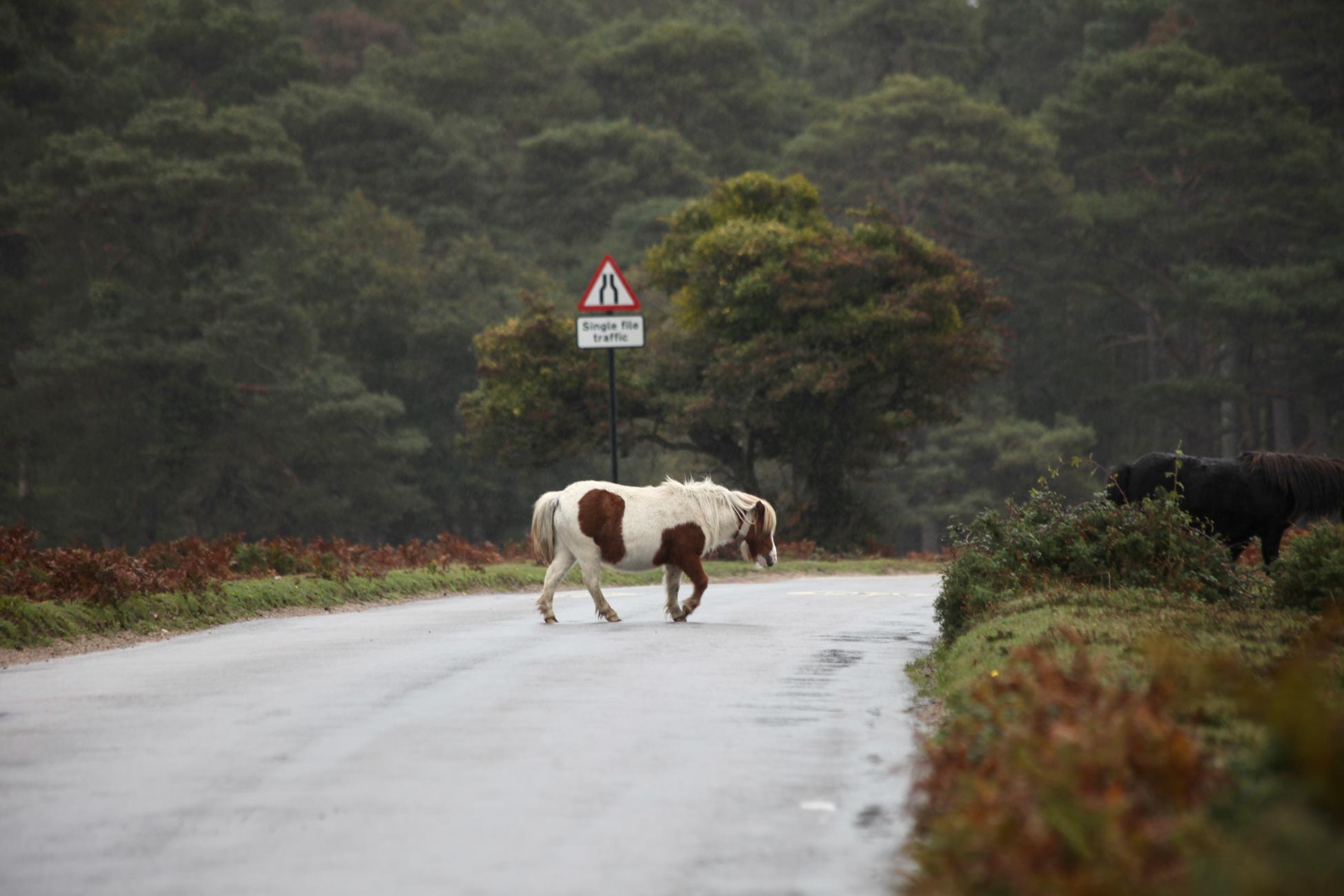 The usual group of Shetland ponies crossed Bull Hill in search of fresh pasturage among the gorse and heather. I got a bit wet wandering amongst them.
Virginia creeper draped over trees blended well with the fence around the land attached to the ramshackle house on Pilley Street.
Alongside School Lane, Portmore, a small flock of Valais Blacknose sheep, a German breed originating in the Valais area of Switzerland, did their best to keep their prized wool dry.
Smoke from a garden bonfire drifted across Hundred Lane, the origin of which I imagine being the Old English subdivision of a county or shire. These divisions had their own courts, and sometimes the term was applied to the court itself.
The Oxford English Dictionary states that the origin of the word 'hundred' is exceedingly obscure and that very diverse opinions have been given as to its origin. 'It has been regarded as denoting simply a division of a hundred hides of land; as the district which furnished a hundred warriors to the host; as representing the original settlement of the hundred warriors; or as composed of a hundred hides, each of which furnished a single warrior' (Stubbs Const. Hist. I. v. §45).
'It is certain that in some instances the hundred was deemed to contain exactly 100 hides of land' (F. W. Maitland).
As to the extent of the hide itself, the dictionary offers that 'the general conclusion seems to be that it is equal to 120 acres although the area of the acre may vary.'
This evening the three of us dined on Jackie's hot and spicy paprika pork; boiled new potatoes; crunchy carrots, cauliflower, and broccoli; and tender runner beans with which the Culinary Queen drank Hoegaarden, Elizabeth Hop House Lager, and I Séguret Cotes du Rhone Villages 2019.