My brother Chris was born in the October of that year, and, with Dad still in the Army, Mum decided to move herself and her two boys from Leicester to be near her husband's family in Wimbledon. She then set about finding somewhere to live. 29a Stanton Road, Raynes Park, SW20, was the address of the rented accommodation she found. Posher now, West Wimbledon has, according to Estate Agents, replaced the location. The suburb had no Waitrose in 1944. It was to be our family home for the rest of my childhood.
In this 3-bedroomed first floor maisonette my parents brought up 5 children. I believe my earliest memory is of my mother carrying the two-year-old me into what was to be my small bedroom backing onto the railway lines between Wimbledon and Raynes Park. She removed something from the mantelpiece. Later, she said it had been a piece of shrapnel. Since our street was not actually bombed by the Luftwaffe, I'm not sure how it got there.
The sound of trains running alongside was a regular refrain, punctuated by periodic cries of nocturnal track maintenance workers and the clank of their equipment.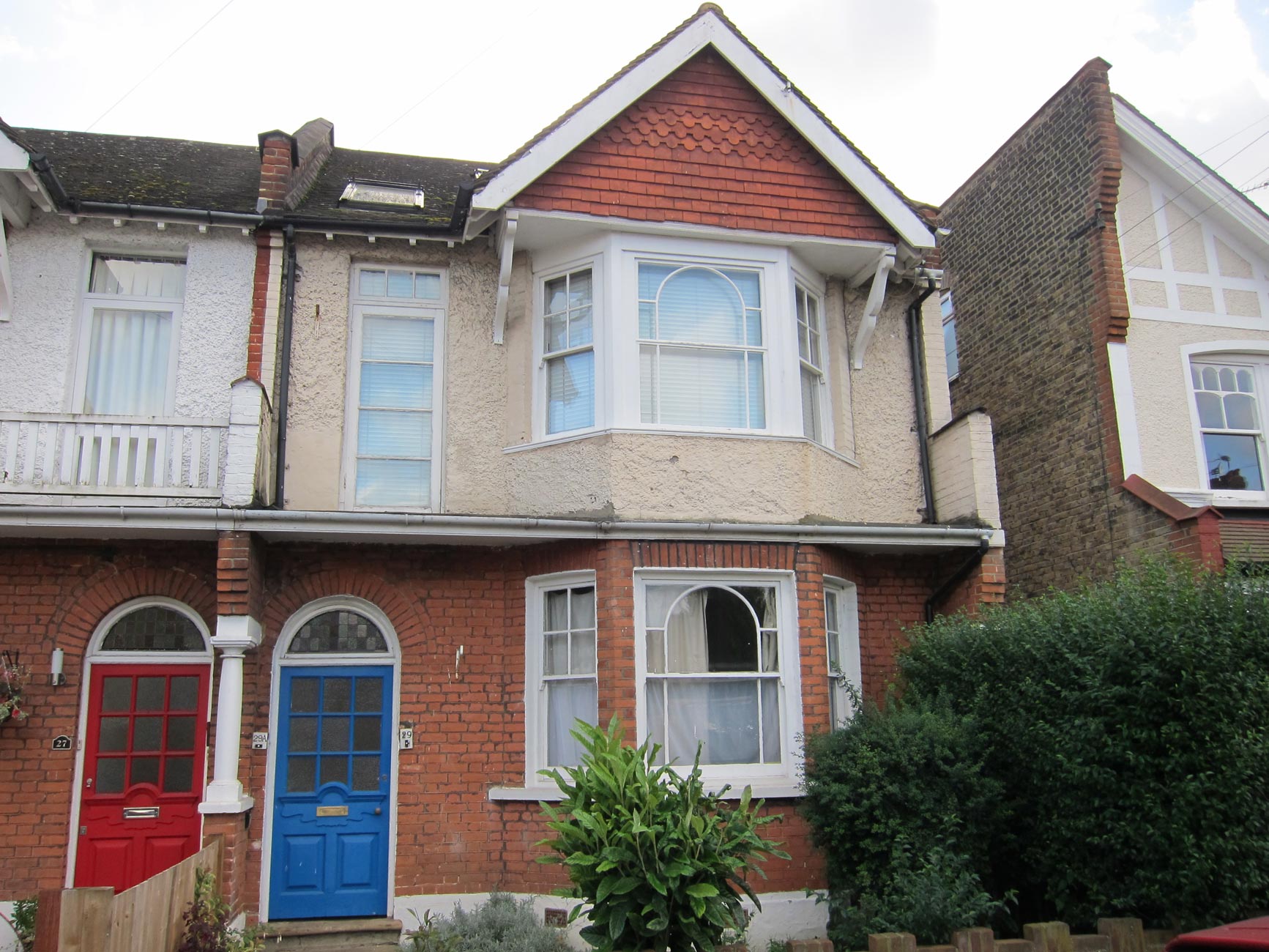 Here are front
and rear views of the building taken in 2012. We never kept a cat, so the flap on our back door was a later addition,
as is demonstrated by this image I produced with my paternal Grandfather's old Box Brownie in 1957. The face in the window is that of our downstairs neighbour, Fred Downes.
Ours was the upstairs frontage to the large sitting room which would become my teenage bedroom after everyone else had gone to bed.
We often stayed at my paternal grandparents' home at 18 South Park Road, Wimbledon, SW19. The large, well designed, Victorian house, in common with the rest of the dwellings in that long road parallel with Wimbledon Broadway, has made way for hideous blocks of flats built from the 60s onwards. The grand original properties had a life-span less than mine.
It was there that we would sleep on bunk beds in the cellar when there was fear of an air raid. This was the location of my next memory. The image is of a ceiling such as I would recognise many years later in Lindum House in Newark, when my mother told me that that was an exact copy of the South Park Road House. The Lindum House cellar still bore the huge supporting beams that were fitted in case of such an attack. I can therefore safely assume that the Wimbledon house bore the same.