A week or so ago I searched for a phone ringing to my right. I went through jacket pockets, opened cupboards etc – all to no avail. A while later the same thing happened. Jackie picked up the phone to my left which I thought had been silent. It was then I realised that the surfeit of wax in my left ear was now affecting my hearing; and I hadn't imagined I would be unable to detect sound direction. This morning I kept an appointment for clearance at the Milford on Sea ear clinic. Most of the stubborn substance was removed, but I was given a date for another visit to complete the job.
We abandoned the idea of a walk along the clifftop because the car parks were filling up fast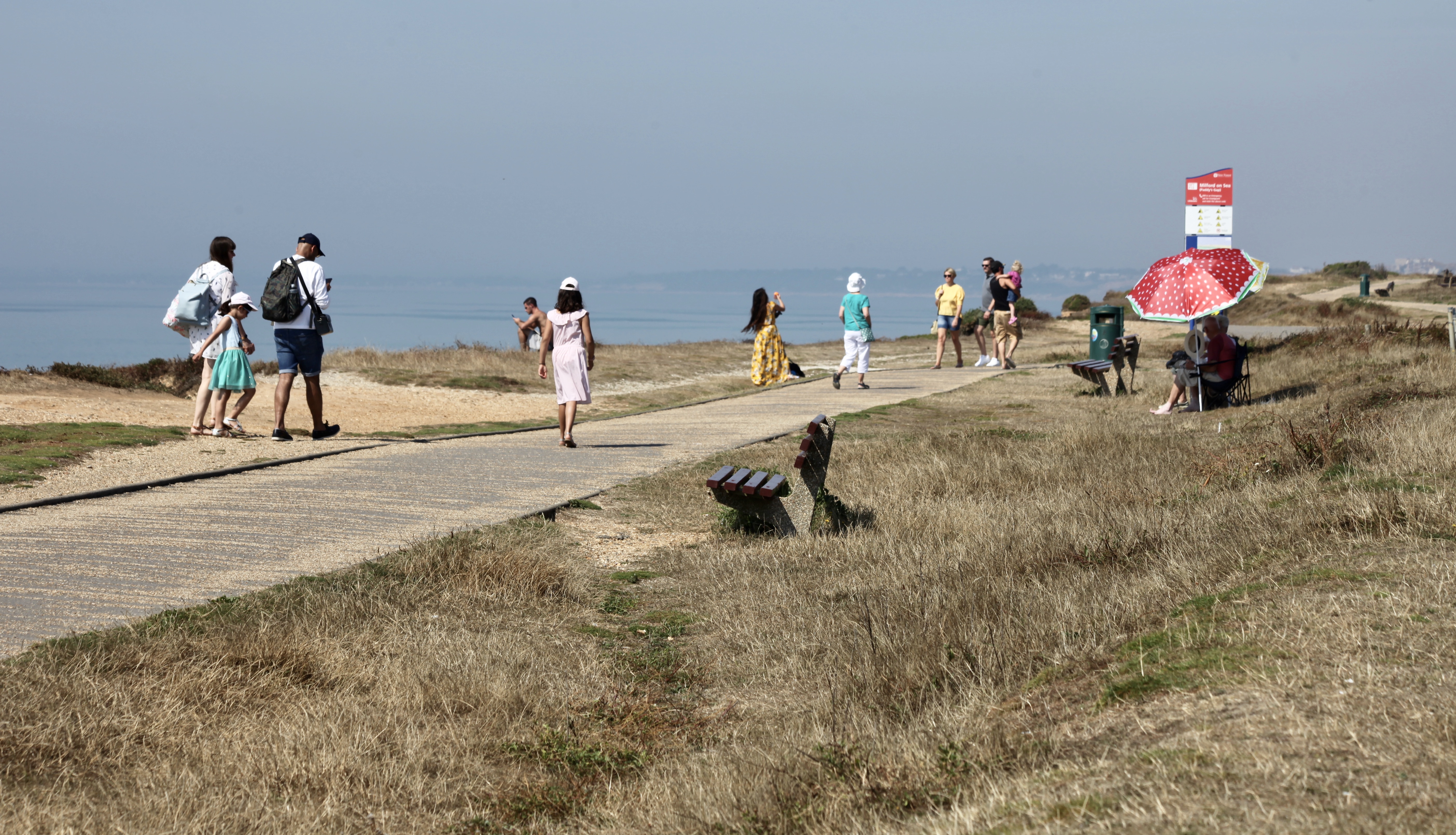 and masks were not much in evidence.
Some couples were content to stand and stare at the pastel shades of the Isle of Wight and Hurst Castle in the haze that had set the fog warning sounding during the early hours.
We then tried Keyhaven where we were unable to park even if we had wished to scramble past visitors.
We proceeded along Saltgrass Lane to the spit which was again becoming decidedly overcrowded with visitors, some of whom were unaware that the shallows would deepen when the tide came in.
Once the lane bends to the right past the bridge the only possible passing spaces on what becomes a one track road would be the verges. These were all occupied by parked vehicles.
We soon approached a vehicular stand-off. The dark blue car in front of us sat nose to nose with the light blue model. The third picture in this series shows the intimacy of the snogging session. Eventually, seen in the next two shots, a mid-blue vehicle prised itself from its tight spot, leaving the lighter one the challenge of squeezing itself in. My maternal grandfather was fond of asking anyone who leapt into his vacant chair "would you be in my grave as quick?". This driver was very unlikely to complete the manoeuvre with any turn of speed. We didn't wait to see. We just got the hell out of there and went home to lunch.
During the afternoon we engaged in more sweltering watering and dead-heading activities until, early in the evening we drove for a while around the lanes less travelled.
In a field alongside Rodlease Lane
a group of small breeds of pony, one of whom studied us mournfully from behind the barbed wire fence.
In Brockenhurst it was the turn of ponies to block the road, one rather underfed mare still suckling her offspring.
Another had the good sense to stick to the woodland verges.
This evening we dined on Jackie's succulent sausage casserole; crispy duchess potatoes; and crunchy cauliflower and broccoli, with which she drank Hoegaarden and I drank Mendoza Argentine Malbec 2018.