This morning I finished reading the justifiably Pulitzer Prize- (for Non-Fiction, 1963) winning work 'The Guns of August' (1962) by Barbara W. Tuchman. With painstaking research, shrewd judgement, and skilful prose, the author analyses and describes the first month of the First World War. We are so accustomed to books and films about the madness of the four years' destructive trench warfare that I found Ms. Tuchman's tour de force most informative.
I knew the war had been sparked off by the assassination of Franz Ferdinand, Archduke of Austria, but had no idea why such a conflagration had followed. This book explains the reason and the method.
Germany had been preparing for war on both Eastern and Western fronts for two decades. It was simply accidental that the blue touch paper was lit in the east.
We learn of the desecration of the Belgian neutrality, the courage of its population; the invaders' belief in the spread of fear as a method of quelling resistance, and their means of exercising it; the speed of the German advance; the infighting within and between the leaders of the allies.
Tuchman closes with an eye to the following four years. I would have welcomed such a work on them.
The details of manoeuvres would probably be more fascinating to serious students of military history than to me, for I found the passages of descriptive writing rather more to my liking.
My Folio Society edition contains copious notes, clear maps, and two batches of photographs which are not really of good enough quality to reproduce here.
On another comparatively mild afternoon we visited Elizabeth and invited her to dinner, which she accepted with alacrity.
We returned home via South Baddesley from where we could view the Isle of Wight in the distance,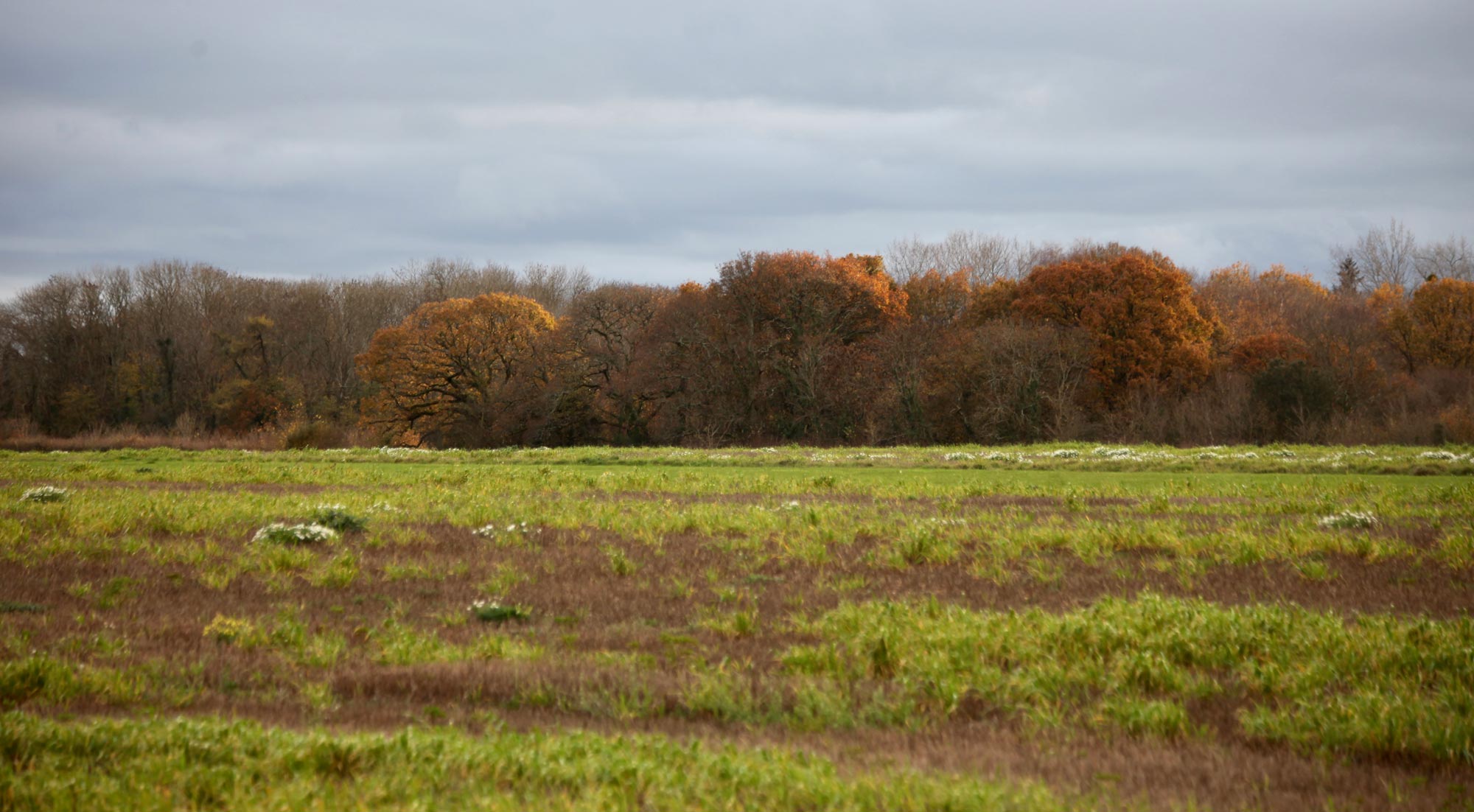 and autumn scenes in the fields.
Beside the unnamed lane down which I walked lay moss covered fallen branches.
Gradually a jogger came into view running up the lane. Soon after he passed Jackie's parked Modus, my Chauffeuse followed me down and picked me up.
As we neared Lymington I photographed a silhouetted tree line.
This evening we dined on succulent roast gammon; creamy mashed potato; piquant cauliflower cheese; crunchy carrots; and tender green beans, with which Elizabeth and I drank Chevalier de Fauvert Comté Tolosan Rouge 2019, and Jackie drank Hoegaarden.