On another warm yet mostly dull day
Jackie continued planting, including various pots, and mending the bed into which I fell beside the Heligan Path two days ago. She had been most concerned about the foxglove which, after she had extricated it from beneath my shoulder only lost a couple of leaves. I can now see that the shrub into which I took a dive was probably the still standing euphorbia.
I made a start on reviving the footpath through the Weeping Birch Bed. This involved lifting stones in order to remove the unwanted alliums from beneath them and removing others from the edges. These beasts even attach their babies to daffodil bulbs from which they had to be extricated. My chair was not stable enough for this task, so after a while I used the long fork standing up, and bent when necessary. I was able to take respite by leaning on the implement, but could not crouch enough to replace the narcissi. Either I'll have another go tomorrow or the Head Gardener will need to step in.
Aquilegias, such as those seen in the bottom right of the Gazebo Path, and the Rose Garden beds, are ubiquitous. Maybe my next weeding job could be along the Rose Garden paths which look a safer prospect.
Various shrubs, like viburnums, and rhododendrons, are spreading for summer at last.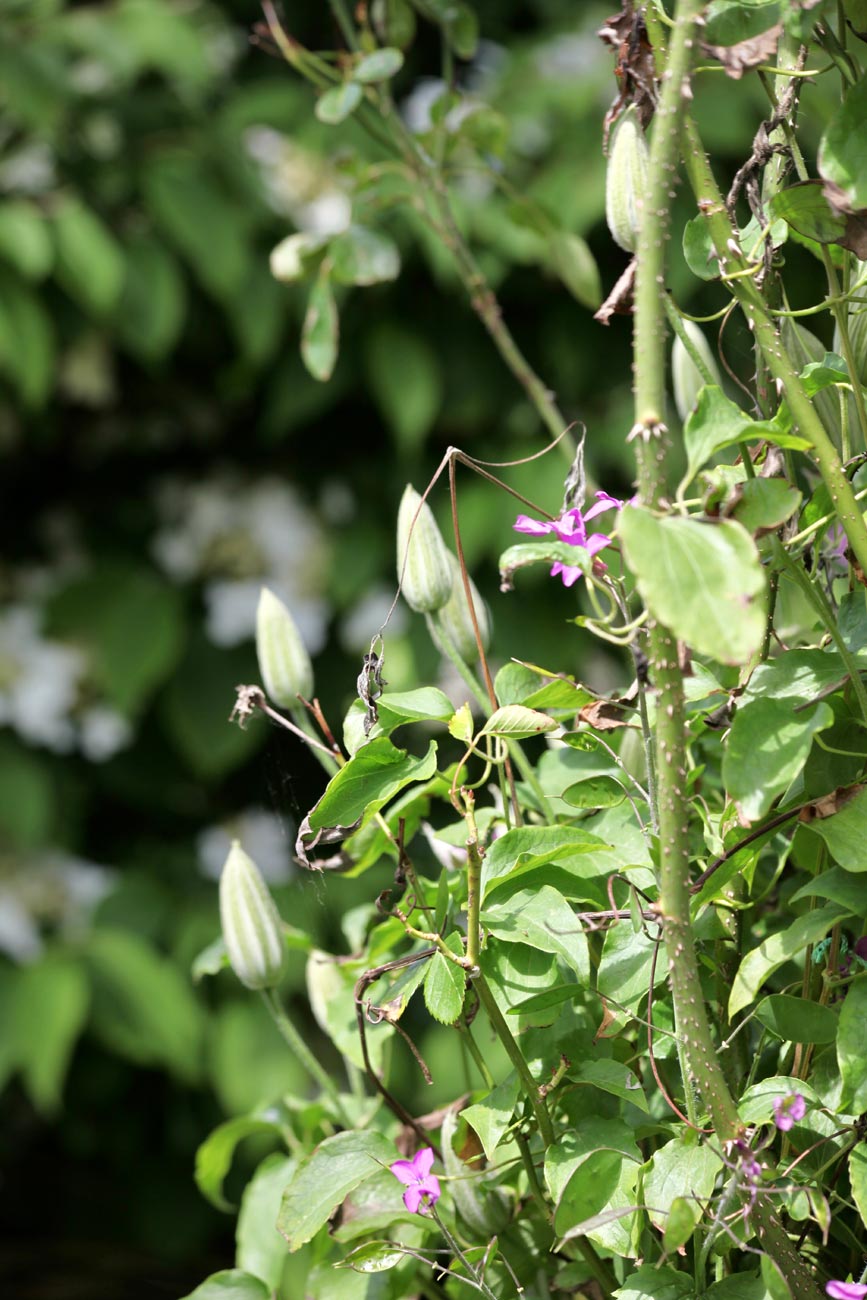 Clematises such as the blue Daniel Deronda and the white Marie Boisselot are now flowering, and Dr Ruppel buds are raring to go.
Other climbers, for example, the blue solanums and rose Arthur Bell are on their way.
The rose scales the arch beside the Dragon Bed which houses these peonies.
This is the view from the Rose Garden, past Florence, and across the lawn towards North Breeze;
and these are, in turn, from the pieris overlooking the Nottingham Castle Bench facing the Brick Path diagonally opposite the West Bed.
This evening we dined on Jackie's most flavoursome sausage casserole; creamy mashed potatoes; exceptionally tasty carrots from Tesco; firm cauliflower; and tender runner beans, with which she drank Hoegaarden and I drank Mendoza Malbec 2019.