This morning I delved into the archives of black and white negatives. Firstly, I made three more prints for Norman, of his photographs for the book he is working on. He had not been happy with the first versions of these; two he considered too dark; and in one I had undeniably snipped the stern off the ship. I couldn't understand why I had unwittingly cropped this picture. After a few more efforts at printing from iPhoto I remembered that this method does have that unfortunate effect. That we had discovered when engaged in our card factory. It took me a while to work it out again, but I did. And wrote it all down. Had I referred back to the Clipped Wings post of last August before I began to wrestle with the problem, I could have saved myself some time.
Having completed the task for my friend, I turned to my own unsorted negatives. Next in line for my attention were some rather atmospheric shots of the banks of the Thames from about 1982. Apart from their displaying scenes that the developments of the next thirty years would change forever, they also show either a remarkably rapid feat of building or a miraculous appearance.
I haven't studied these pictures in the intervening years, and if I made prints of them they have vanished. Since, however, they are still on the strip of Ilford film, I know the order in which I took the photographs, and have repeated it here. The second image down, provides the mystery. Examine the Booth's Gin building. Then look at it in the next two.
Or maybe it is just a matter of perspective.
Michael was almost sixteen when, in 1980, the year of Sam's birth, we moved to Gracedale Road in Streatham from Horse and Dolphin Yard in Soho. In his earlier teens Michael had been Soho's only newspaper boy. At seventeen, he graduated to becoming the relief manager for the chain of newsagents, Rippon's, from one of whose shops in Dean Street he had delivered the papers. When he was given the peripatetic job, he had bought himself a Yamaha motorbike for transport between the branches spread London-wide.
As soon as Sam was big enough, probably three years later, he would mount the steed and imagine he was driving it off into the unknown. Here he is in the street outside our house.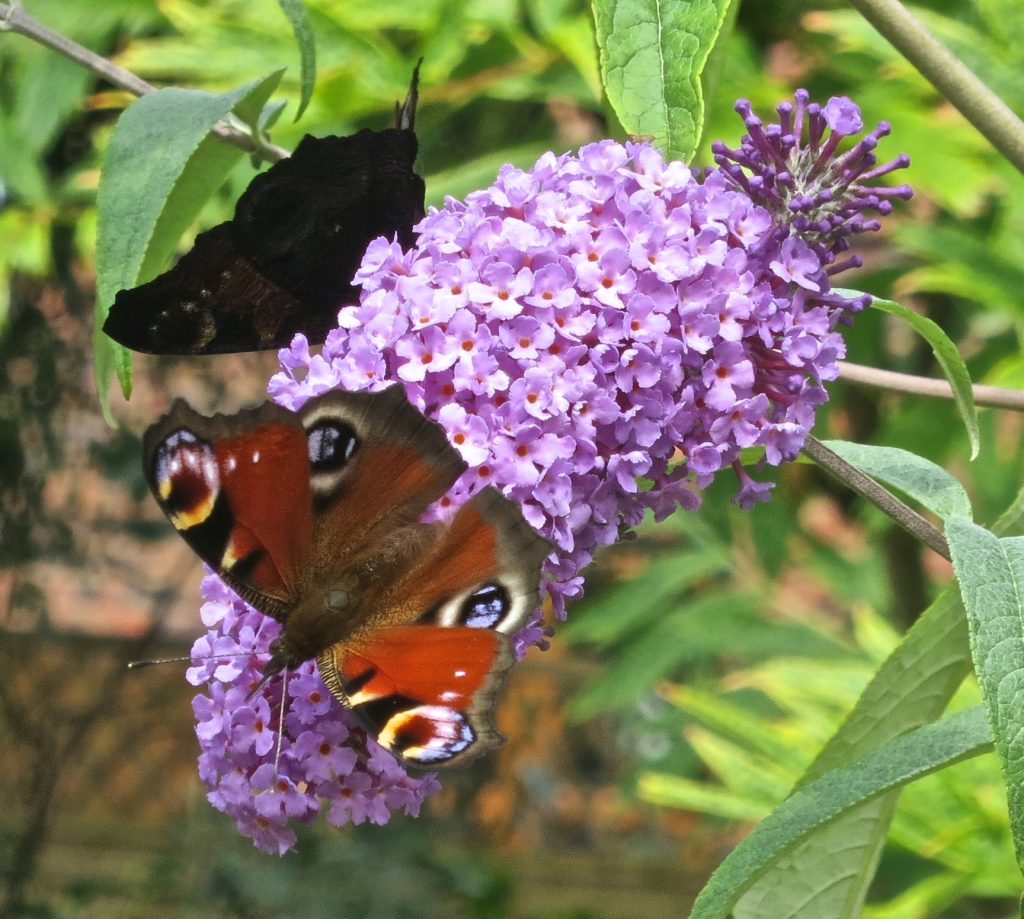 The buddleia in the garden is now attracting a variety of butterflies. Here are a pair of peacocks.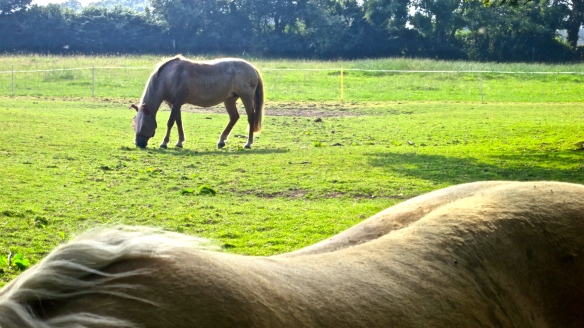 Early this evening I walked along Hordle Lane as far as the paddock and back. Horses wear protective masks to keep the flies off, but still have to use their tails as whisks.
The cow parsley in the verges has run to seed and now looks quite sculptural. Kenneth Clark in his study of 'The Nude' likens the classical ideal human figure to architectural forms. Perhaps all our creations take inspiration from nature.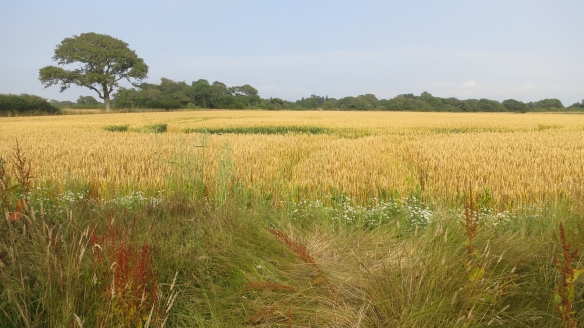 The barley in the fields along the way is coming on nicely.
This evening we dined on Jackie's divine sausage casserole (recipe) with crisp vegetables and smooth mashed potato garnished with our own chives from the garden. I received four bay leaves, this time not a source of embarrassment. Dessert was mixed fruit crumble and custard. Jackie drank Hoegaarden, while I began Villa Blanche 2013, an excellent Pinot Noir given to me for my birthday by Helen and Bill.