Before the family arrived, Jackie planted eggs, and I swept the paths.
Soon after Danni, Andy, and Ella arrived this morning we were joined by Elizabeth.
As an indication of how long it has been since they were last able to visit, our niece and nephew-in-law brought their Christmas present to us –
a stained glass kingfisher which was immediately pinned to the patio kitchen wall.
Soon afterwards, armed with a little basket Jackie had made, Ella gleefully ordered her parents and grandmother around the garden on an Easter egg foray.
Danni carried the photographic clues I had produced yesterday. Apart from the last, each find sported a clue to the next one.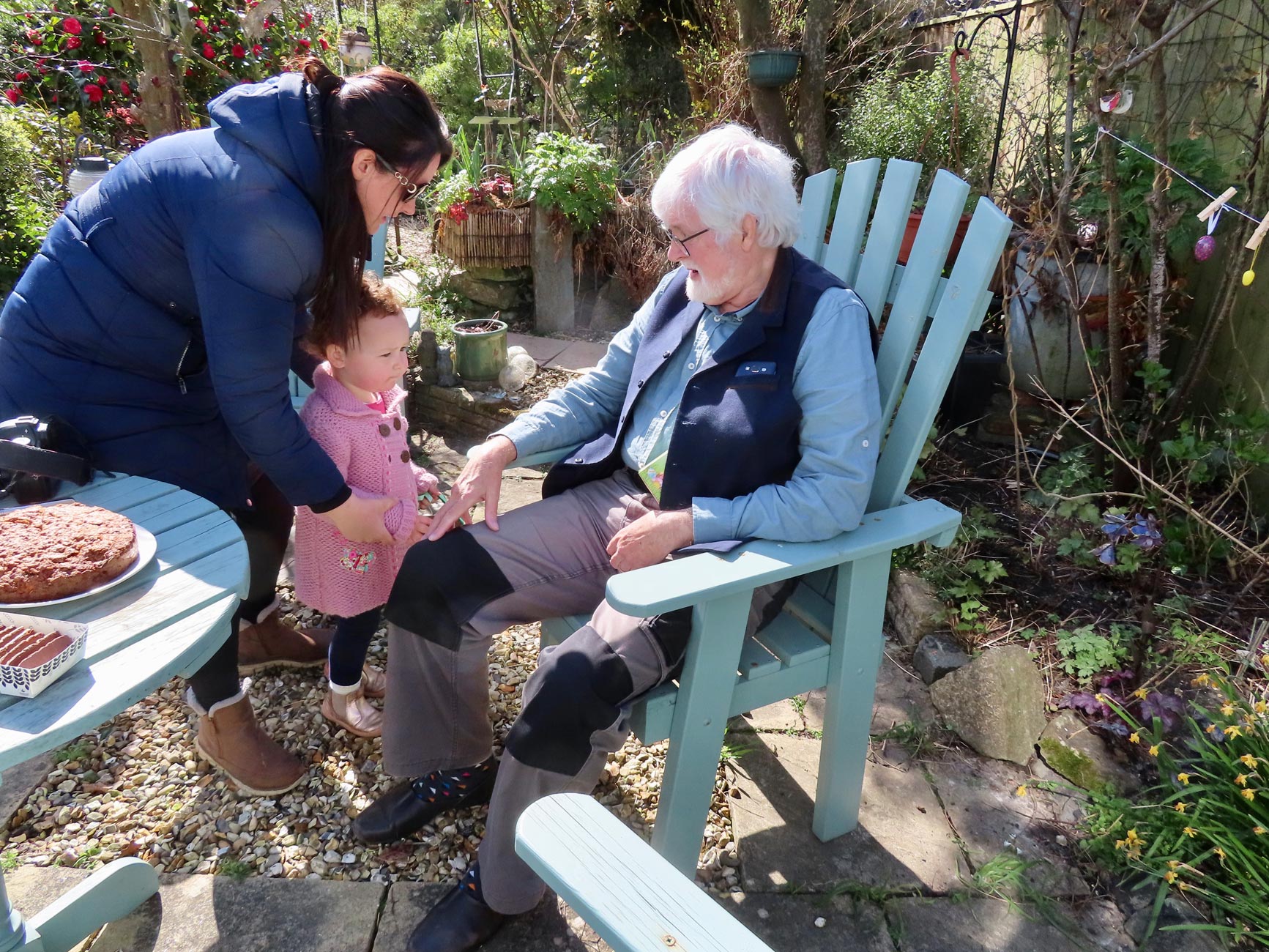 The last package was tucked inside my waistcoat and bore a little white lamb which then accompanied Ella on her travels. The first three of these photographs were Jackie's; the next one, Danni's.
Our visitors stayed for a buffet lunch. Ella had her own little table photographed by me and by her mother.
We have not yet finalised the positions for the new water features which fascinated our great-niece.
With the two images featured above, Danni e-mailed this last picture upon their arrival at home. Part of the message read: 'Ella did not stop chatting all the way home about the owls, the dragon, the ladies [sculptures], Uncle Derrick, Aunty Jacquie and CHOCOLATE!'.
Elizabeth left after lunch with the others, and returned for this evening's roast lamb (not Ella's) dinner, including crisp roast potatoes, parsnips, and Yorkshire pudding; crunchy carrots; tender cabbage; firm broccoli, and meaty gravy with which Jackie drank Peroni and my sister and I drank more of the Dao.