I was seven weeks premature, and weighed 5 pounds, 6 ounces. Those weeks were spent in hospital with my mother, who I believe suffered from eclampsia, yet who was told by nurses not to worry and that she should bring me back when I was twenty-one because I would grow to be over 6 foot, dark, and handsome. The first two points are objectively true; the third is subjective. This was perhaps the first time I was lucky to survive.
Like all infants, I was totally oblivious of the world around me. I was aware only of food, excreta, and sleep. Even when I discovered my fingers I didn't know they were mine.
Rather later, I came to understand that I had been born slap bang in the middle of one of the most important events of world history. Not only was WW2 a terrible conflagration inflicting enormous hardship on my young parents, but it changed the shape of the world and the interrelations of its peoples forever. Had this not happened, my parents, and those of many wartime babies, would never have met.
Firstly it is worth noting that had my father not survived, for example, Dunkirk in 1940, I would not have existed. This was the period, from 27th May to 4th June, when it seemed that almost everything that floated left the south coast of England to sail or stagger across to France to gather up our retreating soldiers under fire from the beach.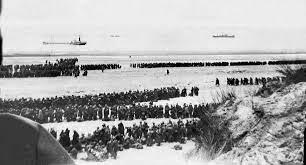 This flotilla of 700 little ships consisting of merchant marine and fishing boats, pleasure craft and lifeboats, assisted in the rescue of 338,000 British and French troops cornered by the German army. Some simply ferried waiting soldiers, some of whom stood shoulder deep in water for hours awaiting their turn, to the larger ships waiting off shore.
Others carried their passengers all the way to Ramsgate.
Many of these vessels had not been in the open sea before and often leaked especially alarmingly for a non-swimmer like Dad. His job in the evacuation process, until his turn came to clamber onto an ancient fishing boat and pray all the way across the Channel, was to repeatedly drive out to and beyond the front line to load his truck with exhausted comrades.
The only story my father ever told about this experience or anything else from the war was that each time he drove back to the invading front from the packed beach, the German voices grew ever nearer, until he drove his vehicle into a ditch and legged it to join a queue for the leaky vessel that took him back to Blighty. He was 22 years old.
_____________
It is perhaps apt that I should feature the second instalment of my life story today, because this was the first occasion post-Covid 19 that Elizabeth has been able to bring our mother to our home for a visit.
Mum was able to see much of the garden colour, and was intrigued by the idea of a water feature operating from solar panels. She knew she had been to a garden like this before, but wasn't sure it was ours. She congratulated Jackie on her creation.
One bonus of having a small group together is that we can enjoy different conversations and silent moments without pressure to focus on one person.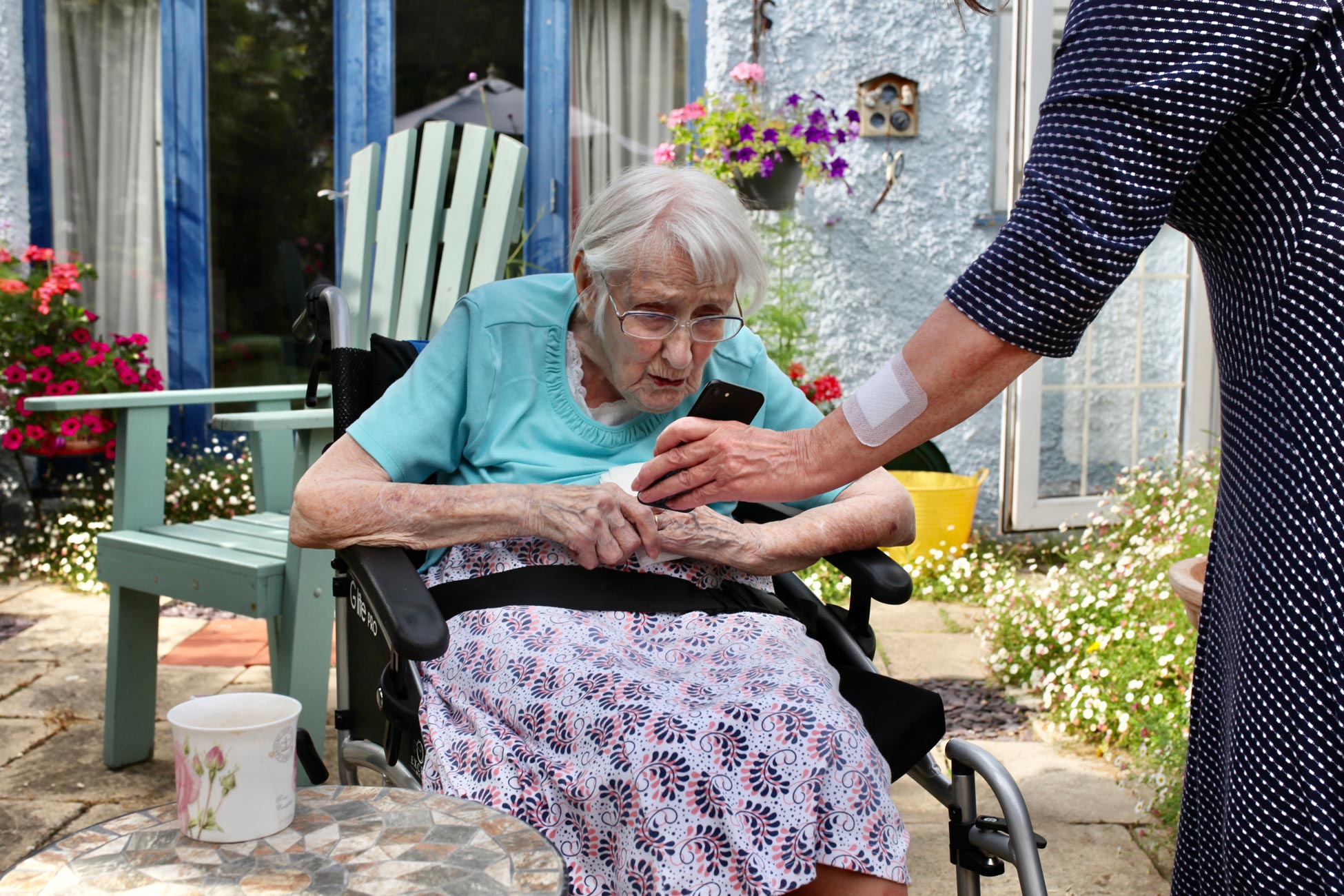 We even briefly included Danni and Ella in a FaceTime conversation with Mum. I wondered how many people approaching their 99th birthday could enjoy the experience of communicating with their 2 year old great granddaughter in this manner.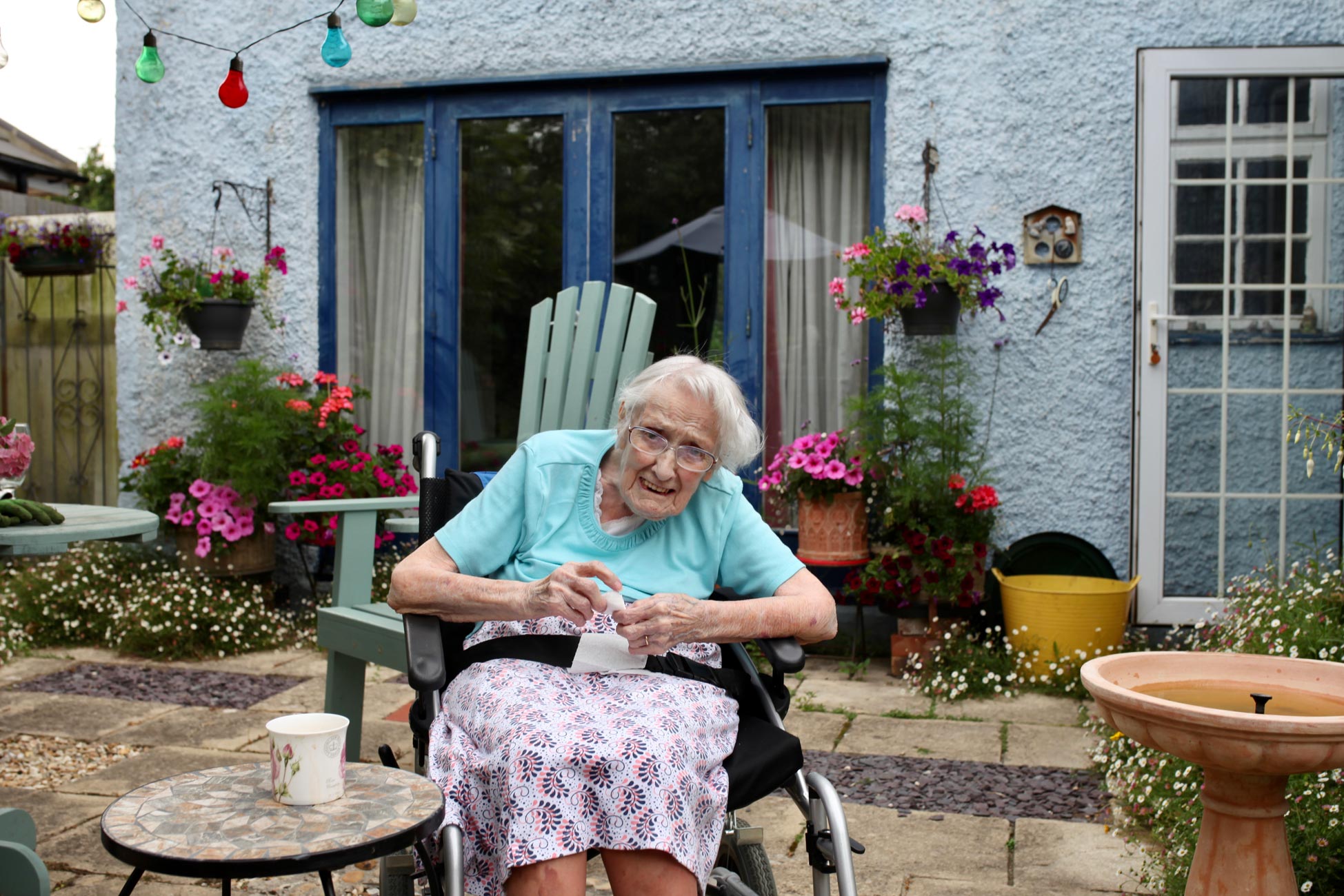 Jean was shyly appreciative of the complimentary messages of goodwill sent by so many people from around the world via this blog.
She was also delighted by the posy Jackie prepared for her to take home.
This evening we dined on Jackie's flavoursome sausage casserole; boiled new potatoes; sautéed mushrooms, leeks, and peppers with crisp broccoli. The Culinary Queen drank more of the Sauvignon Blanc and I drank more of the Syrah.