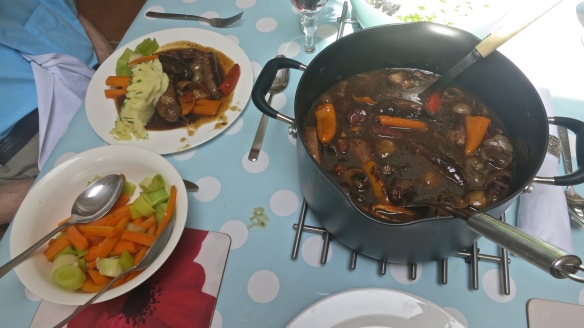 This morning Jackie cooked a superb sausage casserole (recipe) lunchtime meal for our friend Norman. Crisp vegetables and amazingly smooth mashed potato supplemented the dish. Dessert was an excellent plum, greengage, and apple crumble. Jackie drank sparkling water while our visitor and I shared a bottle of La Croix des Papes Chateuneuf du Pape 2012. Norman had travelled in reverse my usual fortnightly journey from his home in Preston Road, to visit us. We collected him from New Milton Station in the car.
After coffee Jackie drove us to have a look at the sea and the Isle of Wight before taking him back to the station for his return. Our octogenarian friend of more than thirty years, dating from when he had been my Deputy in Westminster Social Services Department, had, in his youth, lived in Southampton and had circumnavigated the Romans' Vectis on many an occasion. As I have mentioned before, he is writing a book about passenger ships plying the Bay of Naples. He loves travelling on the water.
The problem with having potted plants and hanging baskets wherever Jackie can find to place them, even perched on the walls at the front, is that, especially on this, the hottest day of the year so far, they need constant watering. My task this evening, was to irrigate those at the front of the house. There are water butts all around the building, collecting the life-giving liquid from the guttering. It was just my luck that the one in the front garden should be empty. That meant I had to traipse round the side of the house to fill my can from one at the back. Still, Jackie had already watered far more at the back.
Afterwards, as we sat on the patio, with our books, and drinking sparkling water, we were visited by the timid pigeon that comes nightly to drink from the minuscule lily pond that began life as a household water tank.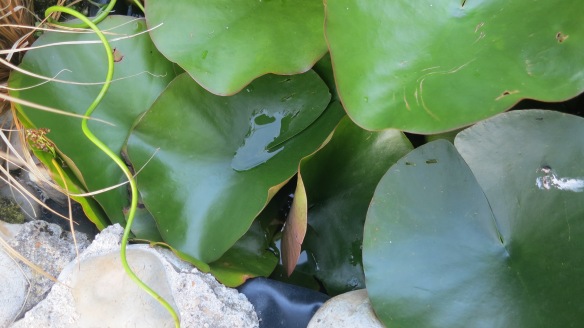 So shy is the bird that as I reached for my camera it flew away, but had left its mark on one of the convex leaves as it sucked up the water cupped in a concave one.
The novel I finished reading this evening was 'December' by Elizabeth H. Winthrop. Once I got over my irritation at the continual use of the historical present used by the writer, I was gripped by this book. Winthrop has a keen eye for detail and an insightful approach to her characters. The story concerns Isabelle, locked into a self-imposed silence, and her parents' struggles to encourage her to speak. The eleven year old child is, herself, unable to break out of the prison in which she is trapped. Her parents feel guilty and helpless, and their nerves are stretched to the limit. Psychotherapists cannot help. Eventually the girl is freed by a shock. The author's understanding of the condition is sound and plausibly represented.