By 1939, just a few months before the start of the Second World War, Mabel returned to England. We have no record of her wartime activities, but my brother Chris was keen to point out that with English, German, French, Russian, and, no doubt, a few other languages behind her, she must have been doing something. After the war she continued tutoring pupils from schools in Wimbledon, including Wimbledon College, which I and my two brothers would all attend later in turn. This was followed by bringing up a bright and intelligent little girl in Gloucester whose mother was dead and whose father was away at sea.
Aged 65 in 1946 Mabel became tutor to twelve year old Julie Andrews – a post in which she would continue for the next four years. Her tasks included going down to the star's home at Walton-on-Thames; travelling up to London to teach her between the matinees and evening shows in her dressing-room at the back of the stage; accompanying her on her tours in the provinces to places such as Sunderland, Peterborough, Bournemouth, Eastbourne, Blackpool, and even Jersey. Wherever they went the Education authorities sent someone to their hotel to check that Julie was being regularly taught. During these enquiries Mabel acted as her chaperone.
The following is an extract from Dame Julie's autobiography:
"My first tutor was a young, pretty, ineffectual woman, whose name I don't recall. I walked all over her, claiming that I was far too busy to do homework. Within two months she was gone and a new tutor, much older [65], by the name of Miss Gladys (sic!) Knight was hired – and she brooked no excuses. She was a disciplinarian, a darling, and a good teacher. We worked together for four hours every day and I finally began to get the education I should have had all along."
Until 1960 Mabel continued to teach schoolboys; German lessons to adults; and, lastly, English to an Italian girl. Just before Christmas she had a fall on the stairs and her teaching days were over. After a further fall two years later, with memory failing, and concentration difficult, she died on 2nd October 1962 and bequeathed 18 Bernard Gardens to my father.
This was a truly tragic end for a really remarkable woman. I have recorded in https://derrickjknight.com/2021/07/30/a-knights-tale-7-world-war-i/ that my great aunt, without possessing a record player included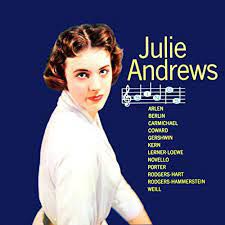 a number of Dame Julie Andrews's recordings in her effects.