After a visit to Ferndene Farm shop this morning Jackie drove me into the forest, where, as in Beckley Common Road,
posts protecting verges along lanes are being planted to keep off the eagerly anticipated summer influx of visiting vehicles.
Field horses along this road are already wearing their fly masks protecting eyes and ears from their own less welcome visitors.
I am not sure what crop we can expect to grace this opposite field.
A fairly widespread forest feature is the random apple tree such as these at Thorney Hill,
with its gorse-gold landscapes, and in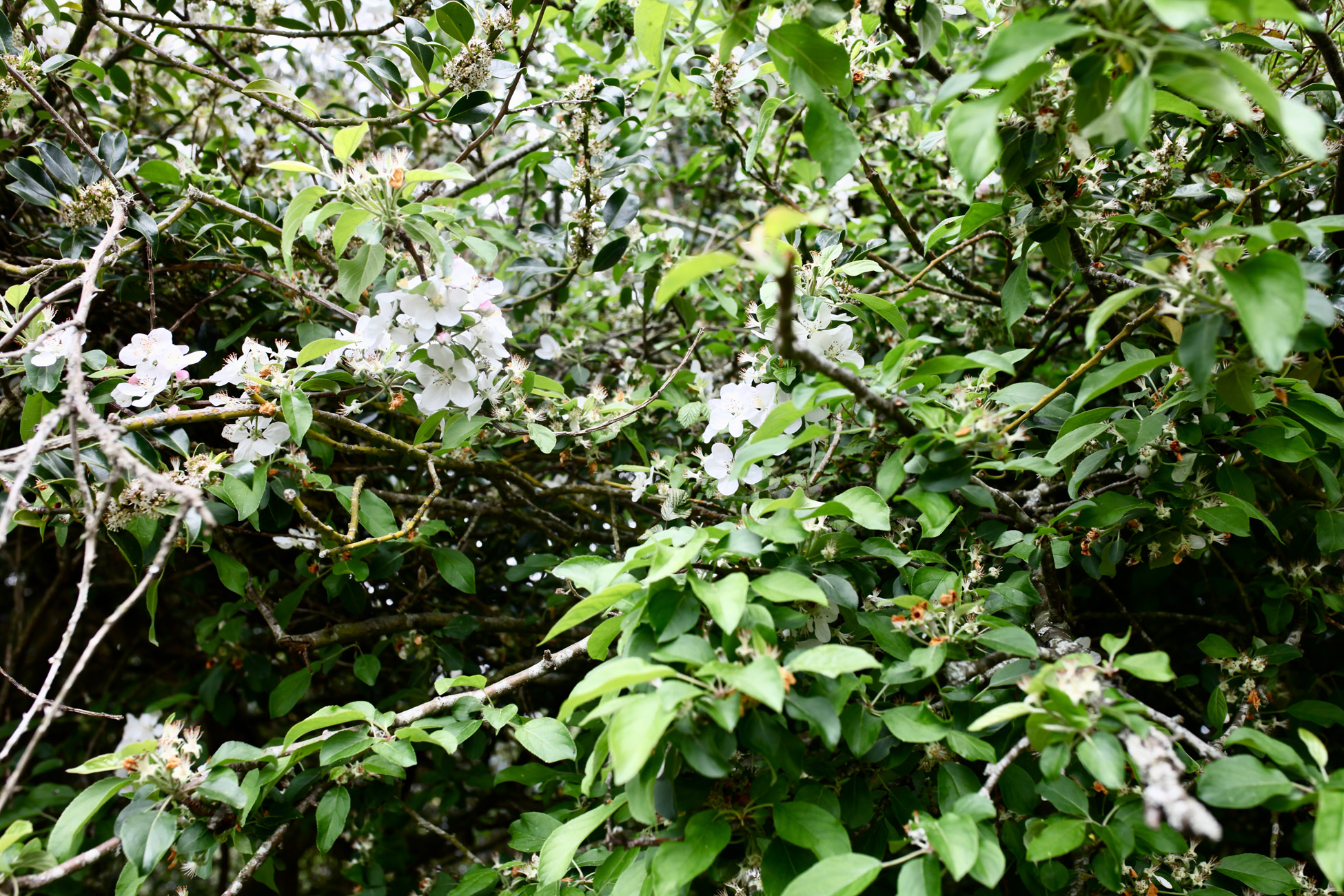 Forest Road . We could easily have focussed on many more today. Whenever we do we always speculate on the muncher whose apple core provided the seed for others to enjoy. Was it lobbed from a car?, tossed on a walk?, or chucked from a folding picnic chair?
Forest Road woodland also contains pink-hued hawthorn, otherwise known as may. We are enjoined 'ne'er [to]cast a clout until May be out', prompting a time-honoured controversy. A clout is an archaic word for an item of clothing; and cast means shed, as in take off. The proverb refers to putting aside our winter clothing. There is, however, no consensus as to whether the upper case month of May is meant, or the lower case may tree. If the old saw (proverb) refers to May, then 'be out' means 'has ended'; if may, 'be out' signifies 'has bloomed'. This may never be settled. Whichever is correct, today I wore shirt-sleeves, sans undershirt and sans jacket – with neither the English nor the American vest. So, with either interpretation, I have it covered.
Donkeys shedding winter coats cropped the verges on our return road out of Brockenhurst, while ponies kept clear of the tarmac.
This evening we dined on pork spare ribs and Jackie's savoury rice with which she drank Hoegaarden, Flo drank Kombucha ginger and lemon, and I drank L'Ayrolle Fitou 2019.