I suppose it is fair to say that "we" shopped at Tesco this morning. Our usual division of labour on such trips applied. Jackie dons a mask and spends up to an hour dodging other customers to reach the aisles; I sit in the car reading – today more chapters of 'Nicholas Nickleby'; Jackie brings a loaded trolley to the Modus; I load the purchases into the boot, and unload them into the kitchen.
On this occasion we enjoyed a brief sojourn in the forest on the way.
We visited the lake at Pilley which reflected the surrounding woodland and cloudy skies above, and still bore water crowfoots.
More leaves were on the trees, shown in our two regularly monitored views, although the water levels haven't really changed. May blossom, more of which could be seen in the surrounding woodland, is finally out in the first view.
Our sometimes visiting grey pony did not come down for a drink, but can be seen in the distance having a lengthy scratch on a gate. Bigifying will make this manoeuvre apparent.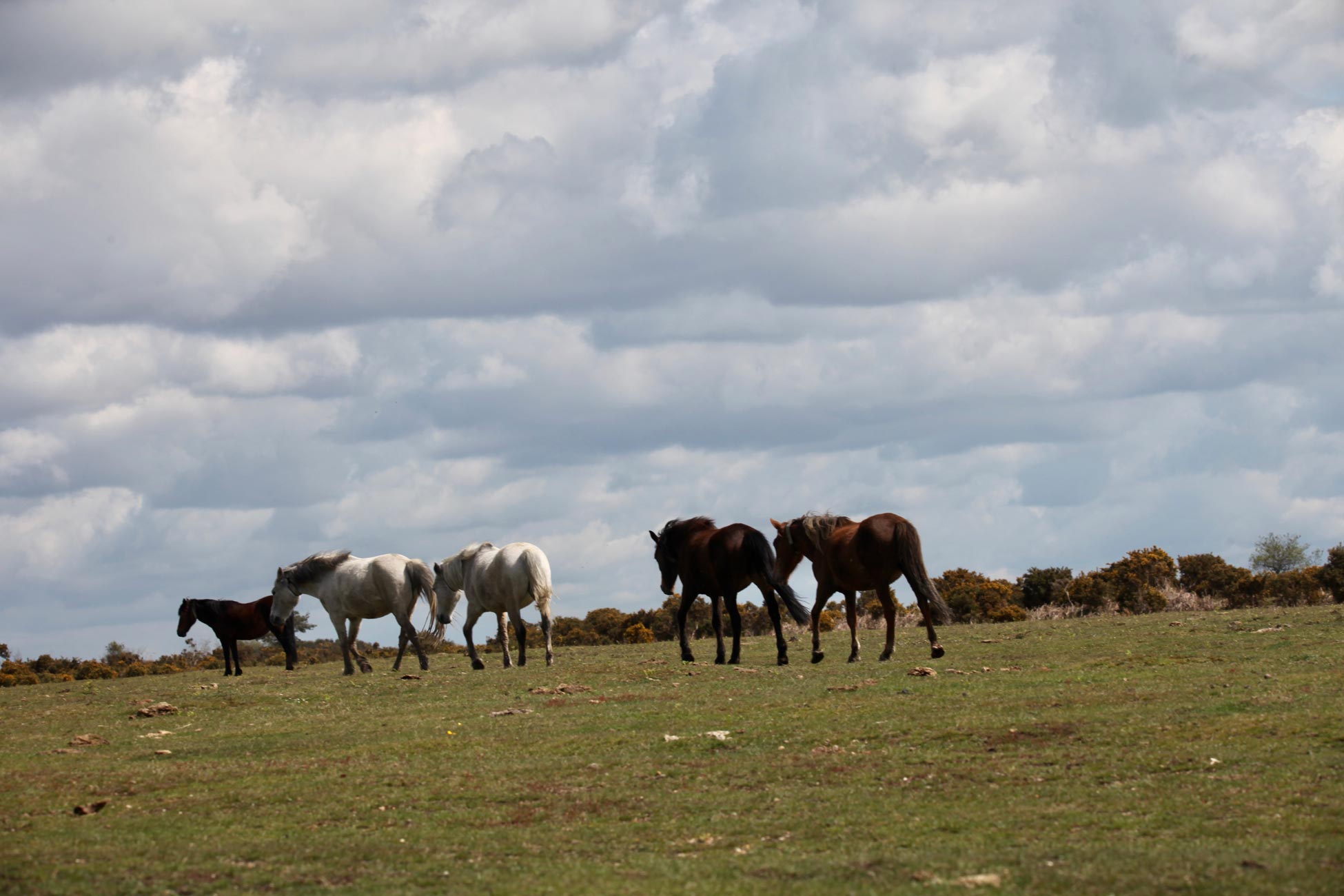 A small group of ponies strode purposefully across the moorland beside Bull Hill.
This afternoon I scanned another seven of Charles Keeping's illustrations to the above-mentioned novel by Charles Dickens.
'Lord Verisoft enjoyed unmolested the full flavour of the gold knob at the top of his cane'.
' 'Closed!' cried Mrs Crummles, raising her hands in astonishment'
'Miss Snevellicci's papa, rising deliberately from his chair, kissed the ladies all round'. Mr Keeping has used his drawing to support the text of two pages.
'The door was opened by a strange servant, on whom the odd figure of the visitor did not appear to make the most favourite impression possible'
'Sir Mulberry applied his whip furiously to the head and shoulders of Nicholas' is a 3D image if ever there was one.
'To the City they went, with all the speed the hackney-coach could make'
' 'My son, sir, little Wackford'
Later this afternoon I all but finished my work on clearing the Heligan Path.
This was to give Jackie the surprise of the day.
Unbeknown to me she came along to see how I was doing.
Just in time to see my chair topple and tip me headfirst into a flower bed.
I was face down in a shrub, elbows on I don't know what, and knees wedged on brick and gravel. Somehow I managed to manoeuvre my hands in a position to perform a press-up of sorts. But my knees wouldn't budge. I really felt stuck and in excruciating pain from a combination of joints both forced where they didn't want to be and resting on sharp objects.
Jackie tried to place the chair in a position from which I could heave myself from the kneeling posture. This could only be done if I could get at least one foot on the ground. With a screwed up face and agonising cries I managed to plant my right foot on the path. The left knee was not going to move. Jackie then found another chair which she placed behind me. Somehow I sat on it and then heaved myself up from the other.
This process took close to 30 minutes. Neither of us had a camera.
Once on my feet I was virtually pain-free and, albeit somewhat wobbly, could walk back to my desk and produce this post.
This evening we dined on a second helping of Jackie's delicious sausage casserole, fried potatoes, carrots and runner beans, with which she drank Hoegaarden and I finished the Shiraz.