We were dependent in those days on trolley buses to take us to school or the first leg of the journey to Auntie Gwen's. From Merton's splendid Art Deco Town Hall we would take a tram to Latimer Road, and occasionally continue along Wimbledon Broadway by tram.
Years later I was to discover that the hand carved fitted furniture for the above-mentioned building had been removed when its inside was gutted to accommodate the current Tesco supermarket. Only the facade remains. The solid oak curved fittings were transferred to the mayor's rooms in the '60s tower block that now houses council offices. Needless to say they fitted in neither sense of the word.
It is perhaps no coincidence that I watched the removal of a splendid wood panelled staircase and its circular landing smashed up and removed from what had been my Social Services Area Office to make way for the aluminium and laminate structures of the Westminster Council Leader, Tesco heiress, Dame Shirley Porter's "One Stop Shop" in the 1980s. This had been a Victorian Town Hall.
Now to return to the trolley buses.
(Photo: David Bradley Online)
Trolley buses were a post tram invention, utilising overhead wires providing the current which was fed to the buses through long connecting rods. These were much longer than the links used by today's Intercity trains. Much delight was taken by all us children when the rods became dislodged. It was a major undertaking to reposition them, which was an entertainment in itself, and, of course, if it happened at the right time and in the right direction, the bus couldn't take us to school. In modern football parlance I'd say that was a result.
These buses ran along Worple Road, providing a transport link between Wimbledon and Raynes Park. Until the early 1950s Wimbledon sported both trolley buses and trams.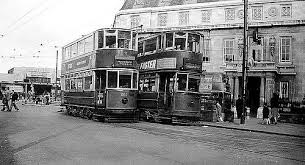 (Photo by Norman Hurford, 1950, scanned by Peter Brabham on Flickr.)
I am proud of a story featuring my paternal grandfather, John Francis Cecil Knight, who was walking alongside one of these open-topped vehicles during the early 20th century. A man on the upstairs deck gobbed overboard. The phlegm landed on Grandpa's sleeve. He jumped on the tram, ran upstairs, and made the offender wipe off his deposit.
These were the days when you could freely board public transport on the move.
Trams have been widely reintroduced in England. Those between Wimbledon and Croydon make use in part of disused railway tracks. They do not glide down Wimbledon Broadway as did the early trams of my boyhood.
In May 2012, whilst waiting on a red light at the ungated level crossing being approached by a tram in each direction I sensed that a young oriental jogger was going to continue on through the path of the trams. She didn't look from side to side and ignored the light. I held up my hand indicating that she should stop. She took no apparent notice of me, glanced to her left, and ran on. The tram that was the most dangerous missed her. She was wearing specs with very thick lenses. Maybe she couldn't see. Maybe she had confidence in her speed.