This morning I e-mailed a drawing to a fellow blogger as an offering to illustrate one of his posts.
While I sat in the car waiting for Jackie to emerge from Tesco with a fortnight's shopping that I would load into our vehicle and into the kitchen at home I finished reading
Lent to us by Giles, this is a truly inspirational book charting the despair following a catastrophic turn of fortune partly brought about by physical- and mental ill-health; a loving relationship and the struggling creativity that, phoenix-like, surmounted disaster and contributed to remarkable success.
Depression, anxiety, unemployment, severe physical pain, all experienced while raising a young family are all honestly described. Sub-titled 'A Story of Despair and Redemption', this work is about the emotional turmoil the writers have experienced; it is also a tutorial on planning and planting a stunning garden; a journey through the seasons and the effects of sunshine, light, water, and soil. The constantly repeated cyclical patterns of each year from gloom to brightness and back again could be seen as a metaphor for the couple's journey through life.
In his dynamic media presentation of such as BBC's 'Gardener's World and in his writing Monty Don has been the public face of this partnership. Sarah, however, in their collaborations, of which this work is one, produces equally eloquent descriptive prose. I must refrain from giving away any more detail but 'The Jewel Garden' supports the phrase 'behind every great man there is a great woman'.
Finally, I would suggest that anyone – TanGental, for instance – planning a garden event at any particular time of the year would do well to read this book.
After lunch I finished pruning the poplar, the chopped branches of which, supplemented by a few more of Jackie's rose clippings, filled another bag for recycling.
I managed to knock this dahlia from its stem while wheeling the barrow of poplar cuttings. Never mind. We have an accident pot indoors.
Petunias still proliferate,
as do the ubiquitous Japanese anemones.
Today's roses are represented by a pink carpet variety; a paler pink Generous Gardener, planted to scale the lopped cypress; and Shropshire Lad, bearing the freckles formed by raindrops.
This pink gaura is the most successful we have tried in this garden; the white begonia has always delighted.
Just one hollyhock bloom has so far resisted adding to a column of seed pods; clematis Julia Correvon has shed her colourful petal-like leaves.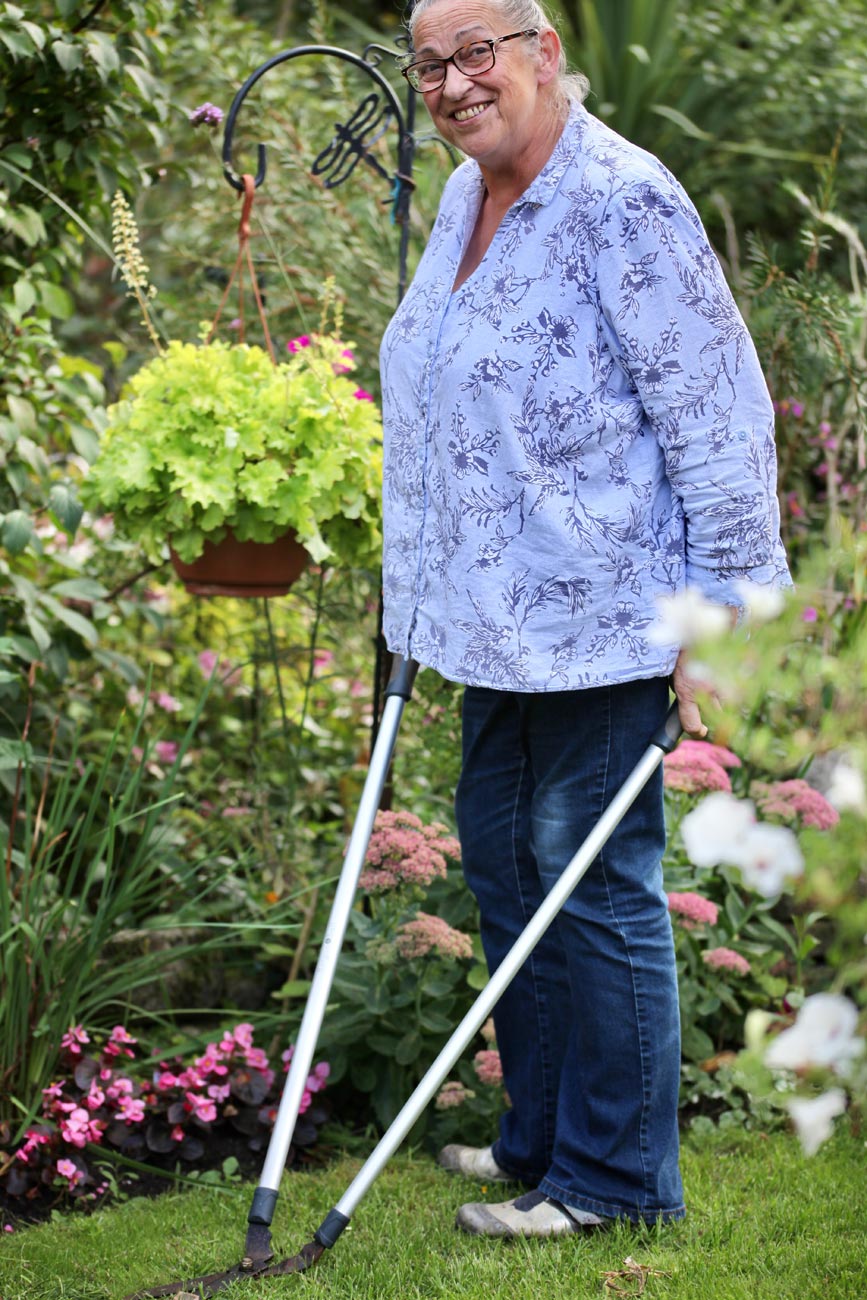 At the end of the afternoon Jackie finished trimming the lawn.
This evening we dined on plentiful scrambled egg on toast.