General garden maintenance this morning included Jackie's replanting of the
Iron Urn consisting of pansies underplanted with purple tulips, having replaced the root-bound soil; and much more clipping, chopping, and bagging of wayward shrubs.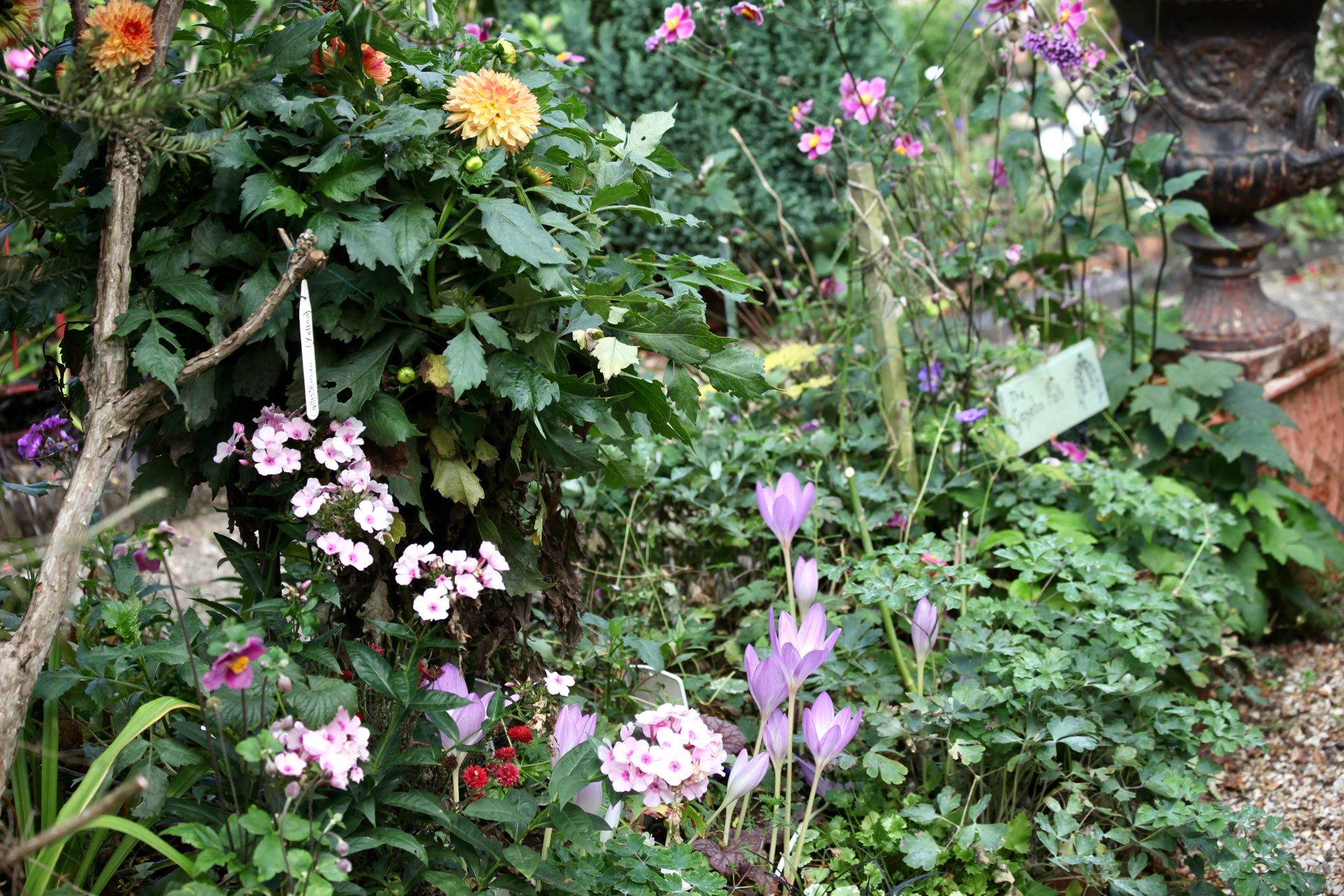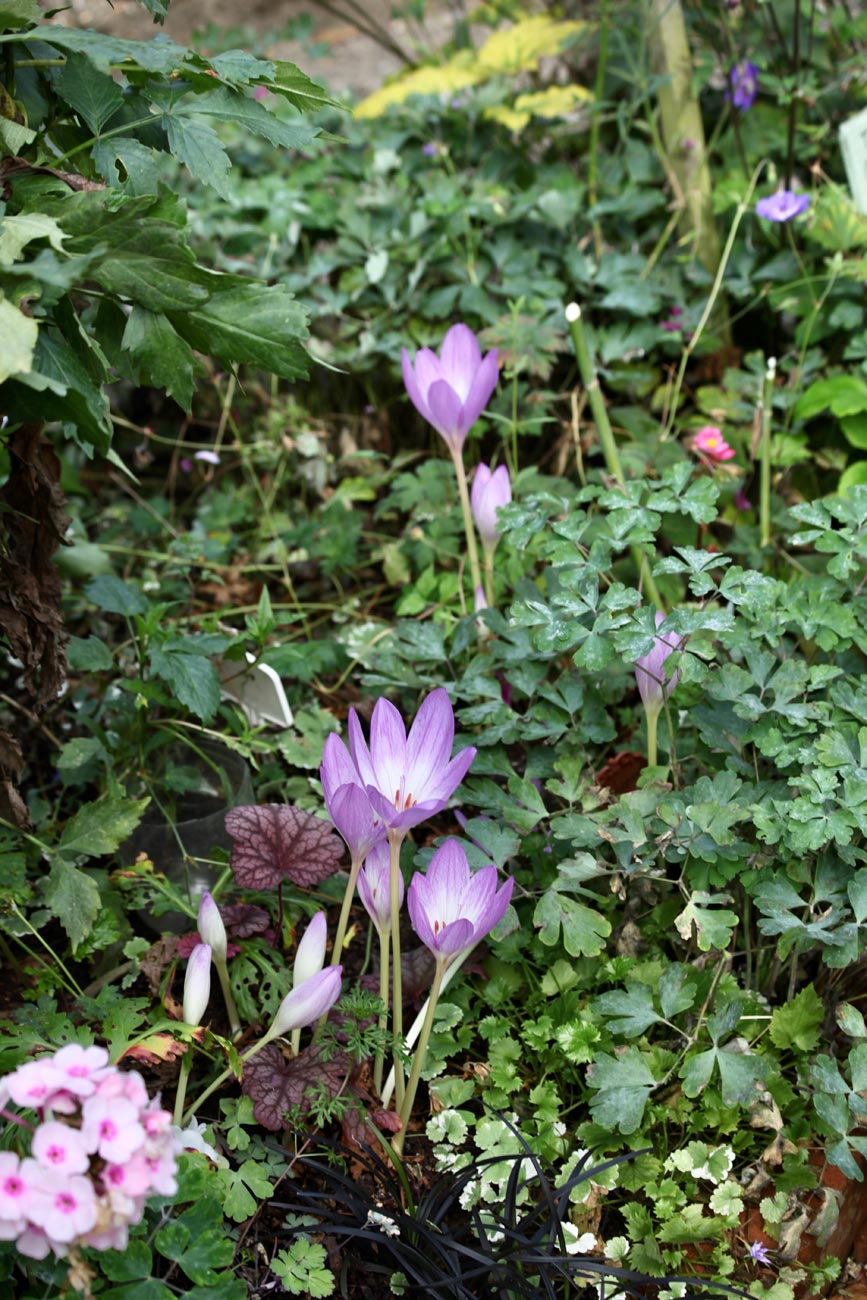 The winter pansies now blend well with the pale purple colchicums or autumn crocuses, phlox, and Japanese anemones while contrasting with Puerto Rico dahlias.
Pelargoniums and lobelias hang happily over the Pond Bed with its Japanese maples, neighbours to
red and white dahlias.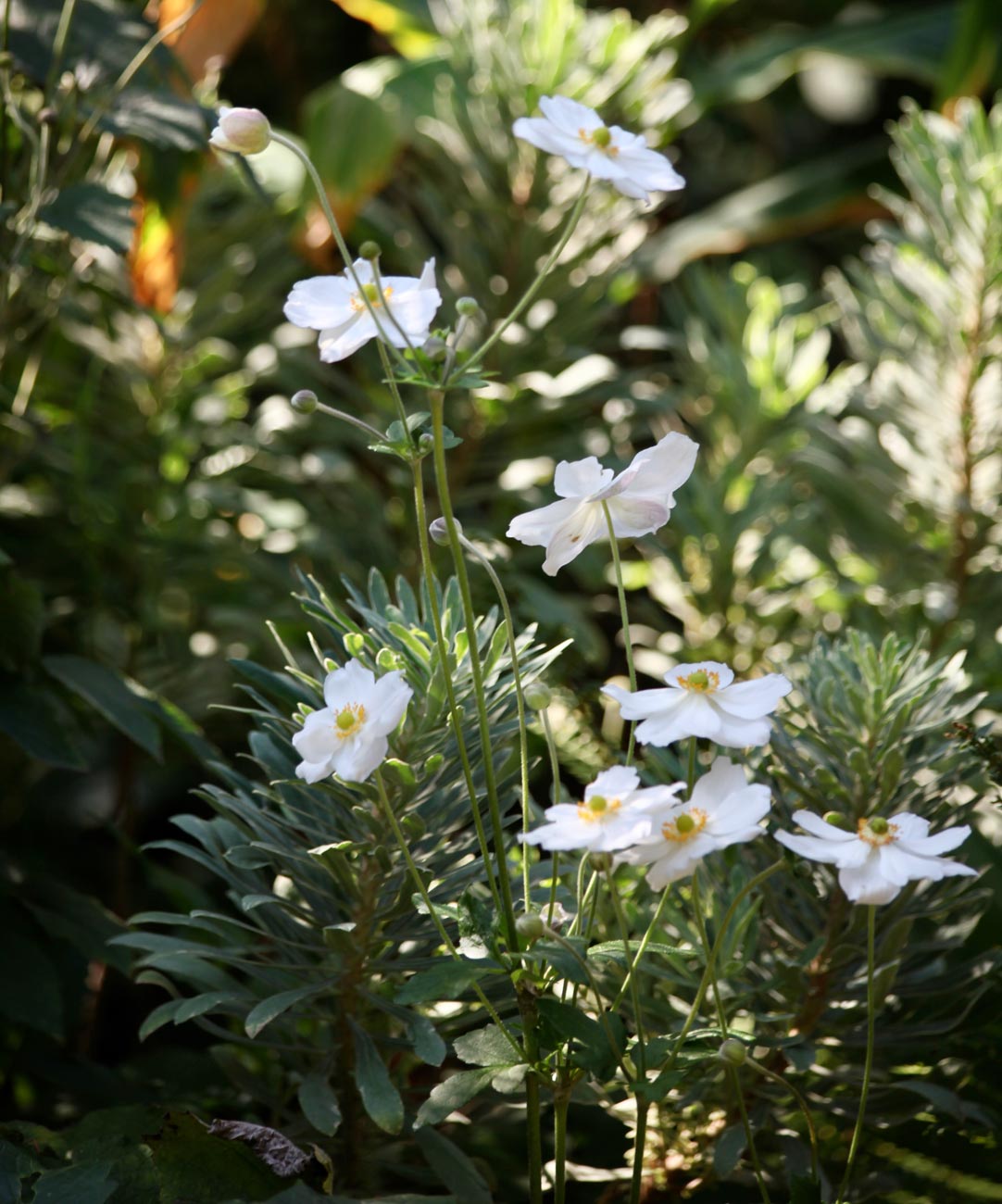 Japanese anemones,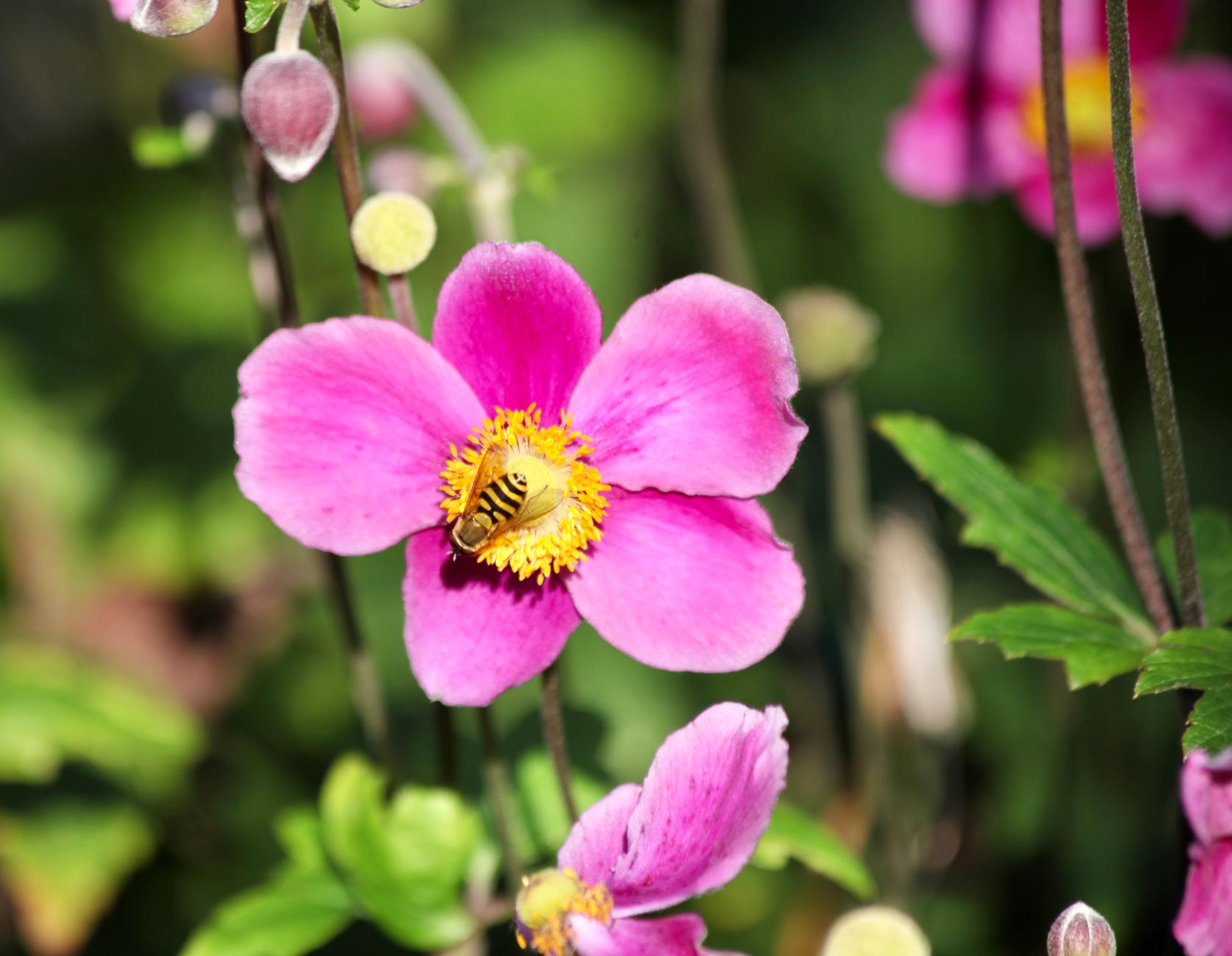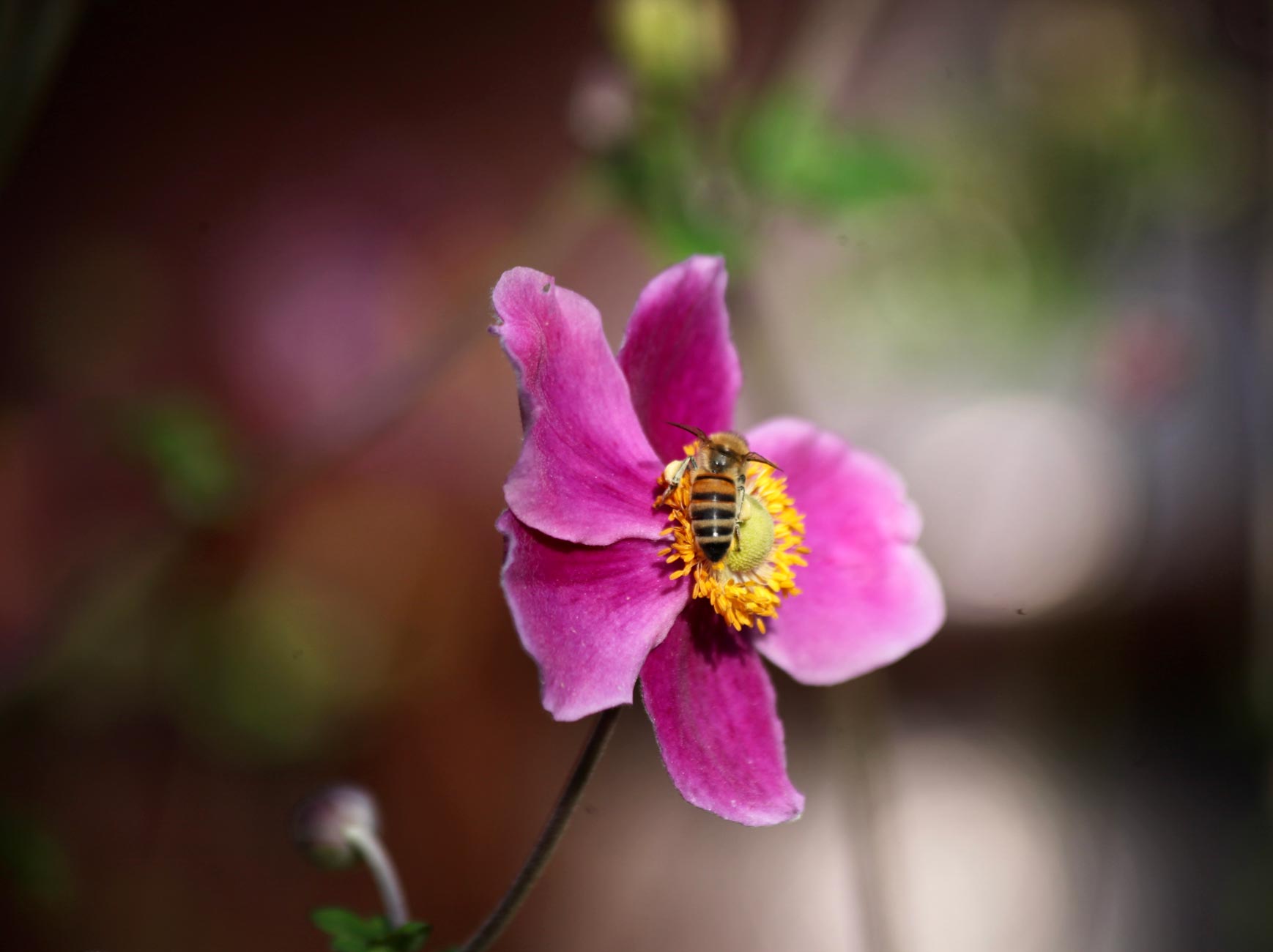 many attracting hoverflies. continue to proliferate.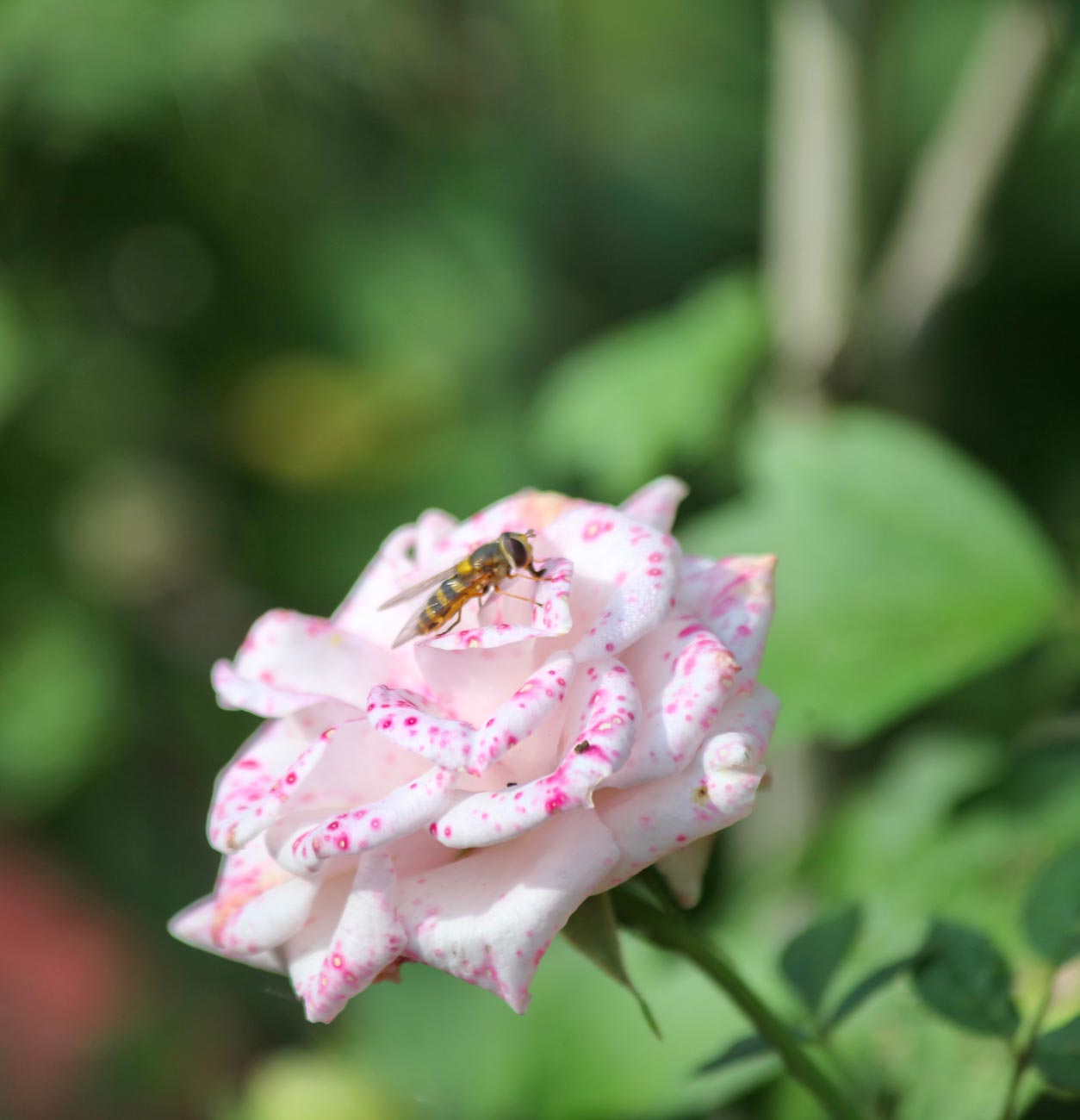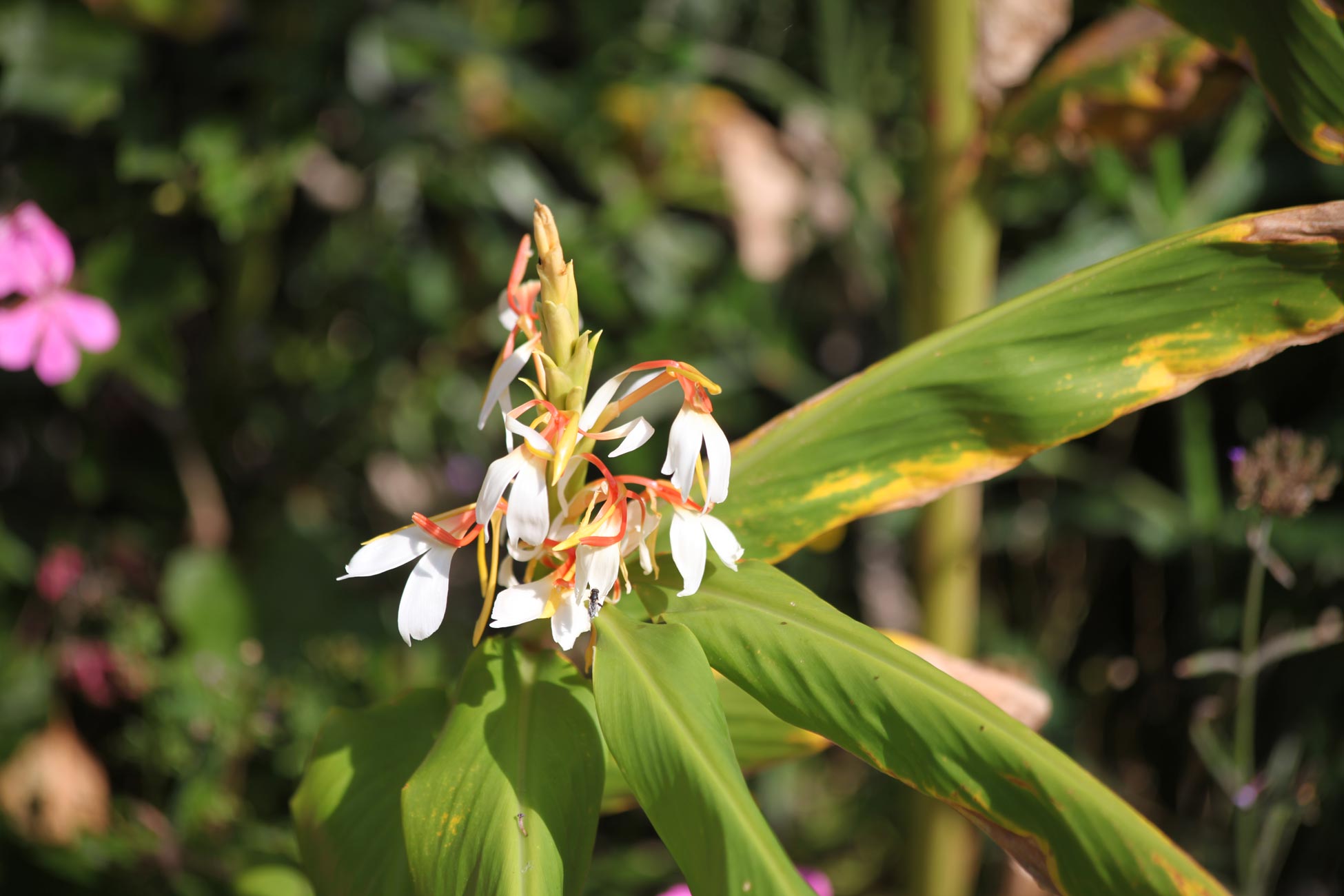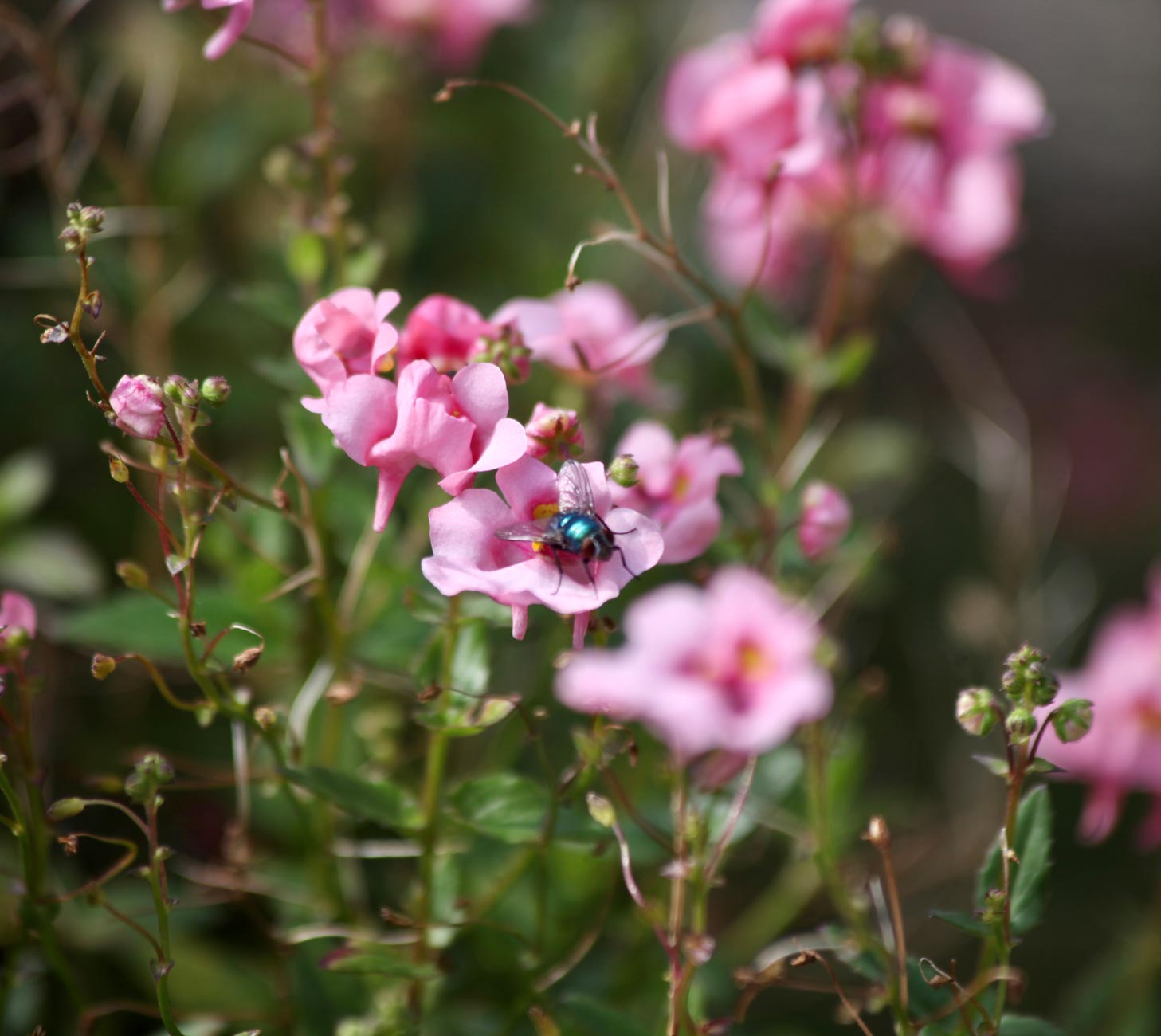 The hoverflies enjoy other flowers such as this rain-freckled pale pink rose; you will probably need to access the gallery and bigify the ginger lily to spot its fly, but perhaps not the bluebottle on the tiny diascia.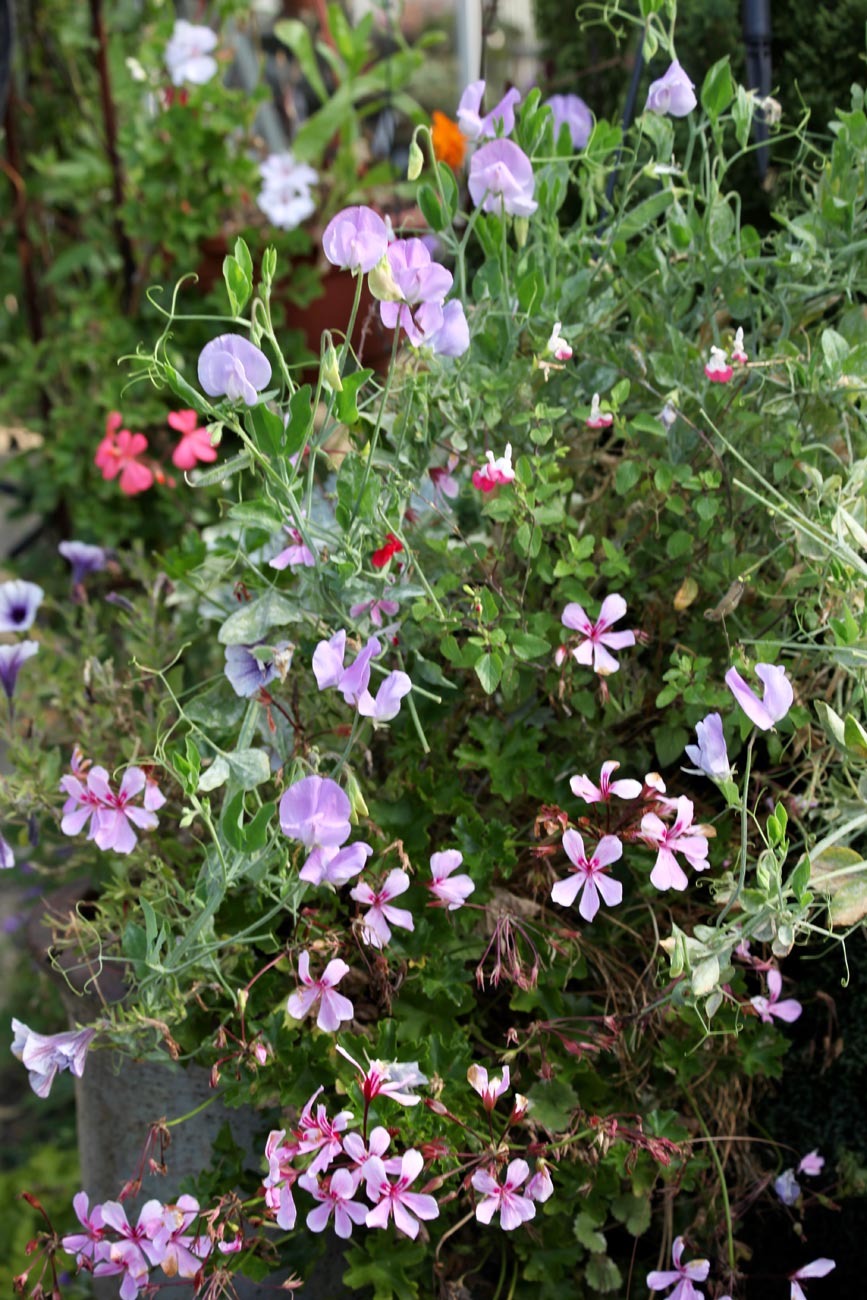 Numerous happy plantings like pelargoniums and sweet peas; eucalyptus with suspended petunias and cascading bidens; and fuchsia Delta's Sarah with more pelargoniums continue to produce.
Further fuchsias include the red and purple Mrs Popple and the delicate white Hawkshead;
most petunias also hang from baskets.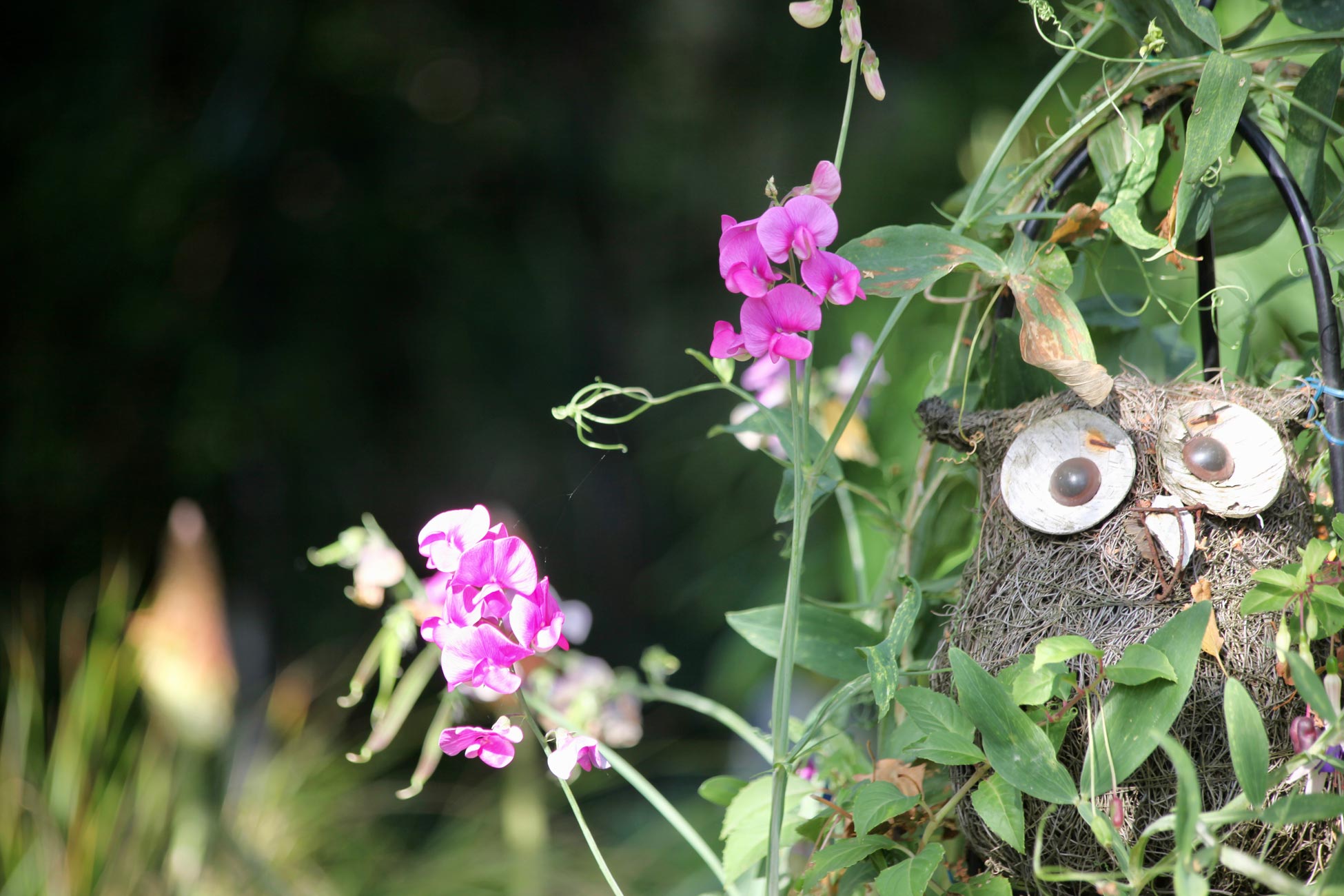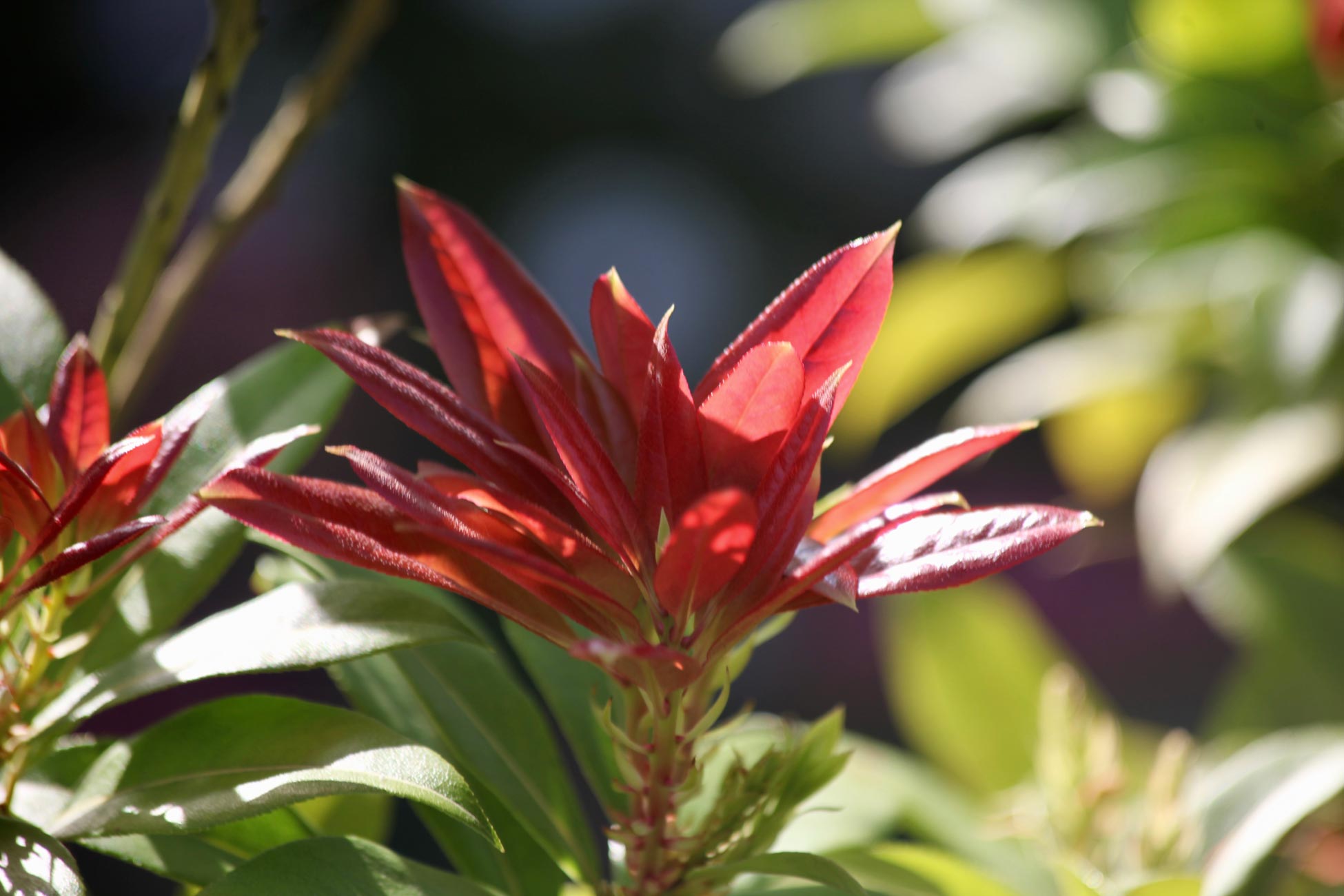 Yellow antirrhinums have bloomed non-stop since early spring; many sweet peas persist; pieris produces red leaves.
The sun spotlights mossy stones at the edge of the Gazebo Path.
We now have so many full garden refuse bags that Jackie tried to book the one permitted half hour slot at the recycling centre. This, of course, can only be done on line. There are none available for the rest of the month; more distant appointments will be 'posted soon'.
Later in the afternoon we carried out extensive watering.
Unfortunately I submitted yesterday's post without realising that I had omitted the virgin beef pie picture, with the result that those who viewed it first will not have seen the complete rudbeckia bas relief. That has now been rectified by the inclusion of the original, and here is an image of today's second serving. We have consumed the stem and most of the leaves, and despite the small shark emerging from the right of the crust, no marine animals were harmed in the making of this production.
With this delicious pie we enjoyed boiled new potatoes, crunchy carrots and, cauliflower, tender green beans, and tasty gravy; Jackie drank Hoegaarden while I started on another bottle of the Bordeaux.